Service Manuals, User Guides, Schematic Diagrams or docs for : LG Monitor LG_LCD_DCR_Memory_Card_Software_Download_[SM]
<< Back
|
Home
Most service manuals and schematics are PDF files, so You will need Adobre Acrobat Reader to view : Acrobat Download Some of the files are DjVu format. Readers and resources available here : DjVu Resources
For the compressed files, most common are zip and rar. Please, extract files with Your favorite compression software ( WinZip, WinRAR ... ) before viewing. If a document has multiple parts, You should download all, before extracting.
Good luck. Repair on Your own risk. Make sure You know what You are doing.
Image preview - the first page of the document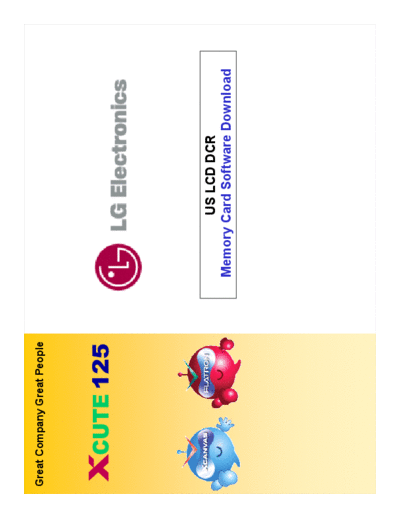 >> Download LG_LCD_DCR_Memory_Card_Software_Download_[SM] documenatation <<
Text preview - extract from the document
Great Company Great People




                                     US LCD DCR
                             Memory Card Software Download
                Step 0. Environment for download




                   USB


                                                                Memory card
                                   External card reader




   1) Insert a memory card into a card reader attached to your PC.

Refer to user manual for the TV for a list of supported memory cards, but most types
are accepted.
Step 1. Copy the download file to the memory card.




                              Download file( *.epk)




            Destination drive (memory card)
          Step 2. Insert the memory card to the slot of the set.




             SD Card




 Memory Card Slot
                 TV Set will display messages as below :




                                                                         Current CPU code version of TV set


                                                                         Download file name in memory card
                                                                         & CPU code version




These messages are displayed automatically for the following case :
  - The current version of the CPU code is lower than that of memory card.
Step 3. Press the ENTER key in remote controller




                                         Enter key




                     If you press the Enter key, the screen is blank status for a few
                     seconds.
                   TV Set will display messages as below :




                                                                           Finished
                                                                           Upgrade rate




- We recommend that memory card should not be ejected during software upgrade operation.

-If you want to upgrade several TV sets with one memory card, you can eject memory card form Memory Card Slot
when displays upgrade rate such as "Upgrading...2 percent".
                         Upgrade complete




                                                                   Upgrade Done


                                                                   Restart after 14 seconds




TV display will show ,  message when upgrade complete.
TV system will restart when press enter key on the remote controller
If you doesn't press enter key, the system will restart after 14 second.
Thus whole software upgrade process will finish.

◦ Jabse Service Manual Search 2020 ◦ Jabse Pravopis ◦ Other service manual resources online : Fixya ◦ eServiceinfo