Service Manuals, User Guides, Schematic Diagrams or docs for : Sony DVP-S715
<< Back
|
Home
Most service manuals and schematics are PDF files, so You will need Adobre Acrobat Reader to view : Acrobat Download Some of the files are DjVu format. Readers and resources available here : DjVu Resources
For the compressed files, most common are zip and rar. Please, extract files with Your favorite compression software ( WinZip, WinRAR ... ) before viewing. If a document has multiple parts, You should download all, before extracting.
Good luck. Repair on Your own risk. Make sure You know what You are doing.
Image preview - the first page of the document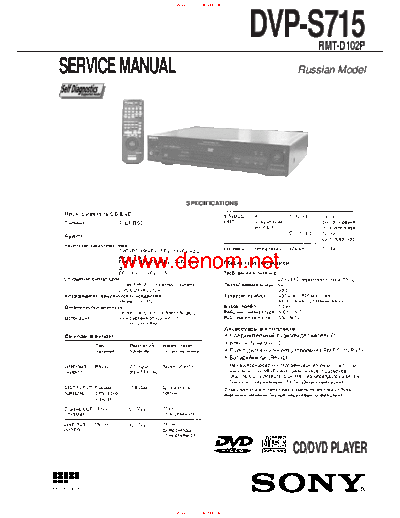 >> Download DVP-S715 documenatation <<
Text preview - extract from the document
                www.denom.net



                                    DVP-S715
                                           RMT-D102P
  SERVICE MANUAL                       Russian Model




                   SPECIFICATIONS




            www.denom.net




                                       CD/DVD PLAYER

MICROFILM




                www.denom.net
                                                                  www.denom.net




                         WARNING!!
WHEN SERVICING, DO NOT APPROACH THE LASER
EXIT WITH THE EYE TOO CLOSELY. IN CASE IT IS
NECESSARY TO CONFIRM LASER BEAM EMISSION,
BE SURE TO OBSERVE FROM A DISTANCE OF
MORE THAN 25 cm FROM THE SURFACE OF THE
OBJECTIVE LENS ON THE OPTICAL PICK-UP BLOCK.


CAUTION:
The use of optical instrument with this product will increase eye
hazard.



  CAUTION
  Use of controls or adjustments or performance of procedures
  other than those specified herein may result in hazardous ra-
  diation exposure.




                                                   SAFETY CHECK-OUT
                                After correcting the original service problem, perform the following
                                safety checks before releasing the set to the customer:


1. Check the area of your repair for unsoldered or poorly-sol-            4. Look for parts which, though functioning, show obvious signs
   dered connections. Check the entire board surface for solder              of deterioration. Point them out to the customer and recom-
   splashes and bridges.                                                     mend their replacement.
2. Check the interboard wiring to ensure that no wires are                5. Check the B+ voltage to see it is at the values specified.
   "pinched" or contact high-wattage resistors.
3. Look for unauthorized replacement parts, particularly transis-
   tors, that were installed during a previous repair. Point them
   out to the customer and recommend their replacement.




                                            SAFETY-RELATED COMPONENT WARNING!!
                                       COMPONENTS IDENTIFIED BY MARK ! OR DOTTED
                                       LINE WITH MARK ! ON THE SCHEMATIC DIAGRAMS
                                       AND IN THE PARTS LIST ARE CRITICAL TO SAFE
                                       OPERATION. REPLACE THESE COMPONENTS WITH
                                       SONY PARTS WHOSE PART NUMBERS APPEAR AS
                                       SHOWN IN THIS MANUAL OR IN SUPPLEMENTS PUB-
                                       LISHED BY SONY.



                                                                    
◦ Jabse Service Manual Search 2021 ◦ Jabse Pravopis ◦ onTap.bg ◦ Other service manual resources online : Fixya ◦ eServiceinfo