Service Manuals, User Guides, Schematic Diagrams or docs for : TOSHIBA DVD RD-XS54 hfe_toshiba_rd-xs54su_service_en
<< Back
|
Home
Most service manuals and schematics are PDF files, so You will need Adobre Acrobat Reader to view : Acrobat Download Some of the files are DjVu format. Readers and resources available here : DjVu Resources
For the compressed files, most common are zip and rar. Please, extract files with Your favorite compression software ( WinZip, WinRAR ... ) before viewing. If a document has multiple parts, You should download all, before extracting.
Good luck. Repair on Your own risk. Make sure You know what You are doing.
Image preview - the first page of the document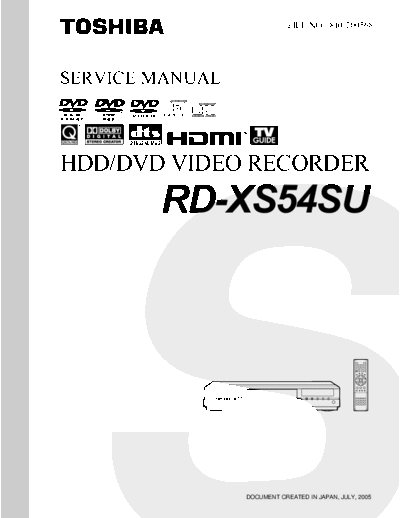 >> Download hfe_toshiba_rd-xs54su_service_en documenatation <<
Text preview - extract from the document
                                     FILE NO. 810-200568




SERVICE MANUAL
         DIGITAL VIDEO




HDD/DVD VIDEO RECORDER
        RD-XS54SU




                         DOCUMENT CREATED IN JAPAN, JULY, 2005
                                                 Jul., 2005
LASER BEAM CAUTION LABEL




When the power supply is being turned on, you may not remove this laser cautions label. If it removes, radiation of a laser
may be received.


PREPARATION OF SERVICING
Pickup Head consists of a laser diode that is very susceptible to external static electricity.
Although it operates properly after replacement, if it was subject to electrostatic discharge during replacement,
its life might be shortened. When replacing, use a conductive mat, soldering iron with ground wire, etc. to
protect the laser diode from damage by static electricity.
And also, the LSI and IC are same as above.





◦ Jabse Service Manual Search 2021 ◦ Jabse Pravopis ◦ onTap.bg ◦ Other service manual resources online : Fixya ◦ eServiceinfo