Service Manuals, User Guides, Schematic Diagrams or docs for : TOSHIBA Monitor Toshiba_32WL66P_37WL66P_42WL66P_32WLG66_32WLT66_37WLG66_37WLT66_42WLG66_42WLT66_no_picture_lines_on_picture_flickering_picture_LVDS_T-con_repair_tips
<< Back
|
Home
Most service manuals and schematics are PDF files, so You will need Adobre Acrobat Reader to view : Acrobat Download Some of the files are DjVu format. Readers and resources available here : DjVu Resources
For the compressed files, most common are zip and rar. Please, extract files with Your favorite compression software ( WinZip, WinRAR ... ) before viewing. If a document has multiple parts, You should download all, before extracting.
Good luck. Repair on Your own risk. Make sure You know what You are doing.
Image preview - the first page of the document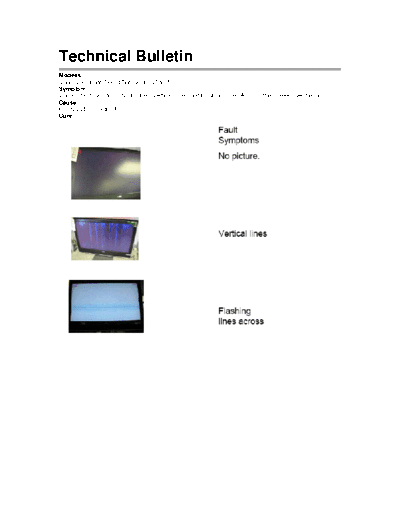 >> Download Toshiba_32WL66P_37WL66P_42WL66P_32WLG66_32WLT66_37WLG66_37WLT66_42WLG66_42WLT66_no_picture_lines_on_picture_flickering_picture_LVDS_T-con_repair_tips documenatation <<
Text preview - extract from the document
Technical Bulletin
Model(s)
42WLG66, 42WLT66, 47WLG66P, 47WLT66
Symptom
Various fault symptoms No Picture, Vertical Lines and Flashing Lines Accross the Screen, see below:
Cause
Faulty LVDS Control PCB.
Cure
The panel for the 47" displays is part number: 75013119. The part number for the 42" displays varies
with panel version but begins: 75008941, then you add the version number to the
end. For example: If you require the LVDS control PCB for a "C2" panel in a 42" set, the part number
would be: 75008941C2.

◦ Jabse Service Manual Search 2021 ◦ Jabse Pravopis ◦ Other service manual resources online : Fixya ◦ eServiceinfo