Service Manuals, User Guides, Schematic Diagrams or docs for : motorola _dataSheets 68HC99_Product_Preview_Oct85
<< Back
|
Home
Most service manuals and schematics are PDF files, so You will need Adobre Acrobat Reader to view : Acrobat Download Some of the files are DjVu format. Readers and resources available here : DjVu Resources
For the compressed files, most common are zip and rar. Please, extract files with Your favorite compression software ( WinZip, WinRAR ... ) before viewing. If a document has multiple parts, You should download all, before extracting.
Good luck. Repair on Your own risk. Make sure You know what You are doing.
Image preview - the first page of the document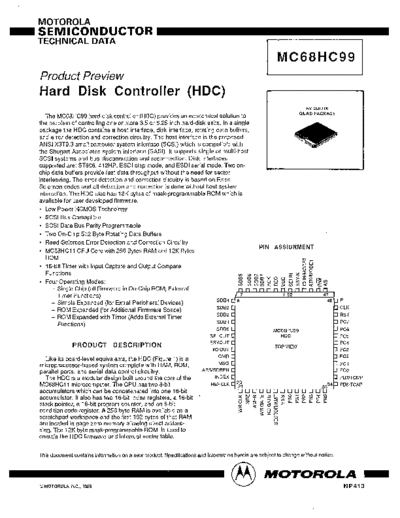 >> Download 68HC99_Product_Preview_Oct85 documenatation <<
Text preview - extract from the document
    MOTOROLA
_   SEMICONDUCTOR
    TECHNICAL DATA

                                                                                                           MC68HC99
    Product Preview
    Hard Disk Controller (HOC)
                                                                                                                              FN SUFFIX
                                                                                                                            QUAD PACKAGE
       The MC68HC99 hard disk controller (HOC) provides an economical solution to
    the problem of controlling one or more 3.5 or 5.25 inch hard-disk units. In a single
    package the HOC contains a host interface, disk interface, rotating data buffers,
    and error detection and correction circuitry. The host interface is the proposed
    ANSI X3T9.3 small computer system interface (SCSI) which is compatible with
    the Shugart Associates system interface (SASI). It supports single or multi-host
    SCSI systems and bus disconnection and reconnection. Disk interfaces
    supported are: ST506, 412HP, ESDI step mode, and ESDI serial mode. Two on-
    chip data buffers provide fast data throughput without the need for sector
    interleaving. The error detection and correction circuitry is based on Reed-
    Solomon codes and all detection and correction is done without host system
    interaction. The HOC also has 12K bytes of mask-programmable ROM which is
    available for user developed firmware.
    
◦ Jabse Service Manual Search 2021 ◦ Jabse Pravopis ◦ onTap.bg ◦ Other service manual resources online : Fixya ◦ eServiceinfo