Service Manuals, User Guides, Schematic Diagrams or docs for : panasonic Airco CS-MZ5S PAPAMY1605060AE
<< Back
|
Home
Most service manuals and schematics are PDF files, so You will need Adobre Acrobat Reader to view : Acrobat Download Some of the files are DjVu format. Readers and resources available here : DjVu Resources
For the compressed files, most common are zip and rar. Please, extract files with Your favorite compression software ( WinZip, WinRAR ... ) before viewing. If a document has multiple parts, You should download all, before extracting.
Good luck. Repair on Your own risk. Make sure You know what You are doing.
Image preview - the first page of the document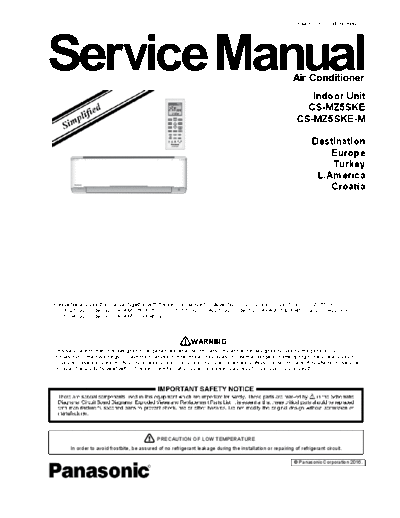 >> Download PAPAMY1605060AE documenatation <<
Text preview - extract from the document
                                                                                                              Order No: PAPAMY1605060AE




                                                                                                                   Indoor Unit
                                                                                                                  CS-MZ5SKE
                                                                                                                CS-MZ5SKE-M

                                                                                                                       Destination
                                                                                                                           Europe
                                                                                                                           Turkey
                                                                                                                        L.America
                                                                                                                           Croatia




Please file and use this manual together with the service manual for Model No. CU-2E12SBE CU-2E15SBE CU-2E18SBE
CU-3E23SBE, Order No. PAPAMY1601015CE, CU-3E18PBE CU-4E23PBE, Order No. PAPAMY1301048CE and CU-4E27PBE
CU-5E34PBE, Order No. PAPAMY1303046CE.



                                                               WARNING
This service information is designed for experienced repair technicians only and is not designed for use by the general public.
It does not contain warnings or cautions to advise non-technical individuals of potential dangers in attempting to service a product.
Products powered by electricity should be serviced or repaired only by experienced professional technicians. Any attempt to service
or repair the products dealt with in this service information by anyone else could result in serious injury or death.




                                               PRECAUTION OF LOW TEMPERATURE
       In order to avoid frostbite, be assured of no refrigerant leakage during the installation or repairing of refrigerant circuit.

                                                                                                              
◦ Jabse Service Manual Search 2021 ◦ Jabse Pravopis ◦ onTap.bg ◦ Other service manual resources online : Fixya ◦ eServiceinfo