Service Manuals, User Guides, Schematic Diagrams or docs for : panasonic Audio SA-PMX3E PSG1407054PE_PRINTDB
<< Back
|
Home
Most service manuals and schematics are PDF files, so You will need Adobre Acrobat Reader to view : Acrobat Download Some of the files are DjVu format. Readers and resources available here : DjVu Resources
For the compressed files, most common are zip and rar. Please, extract files with Your favorite compression software ( WinZip, WinRAR ... ) before viewing. If a document has multiple parts, You should download all, before extracting.
Good luck. Repair on Your own risk. Make sure You know what You are doing.
Image preview - the first page of the document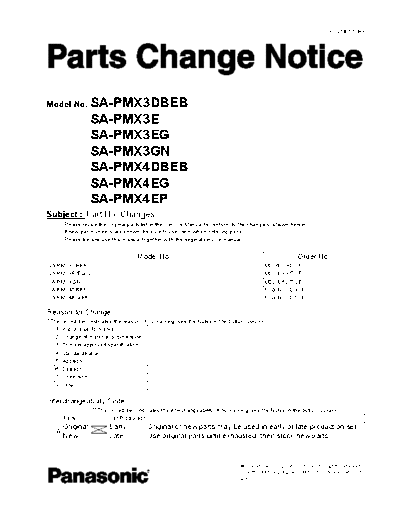 >> Download PSG1407054PE_PRINTDB documenatation <<
Text preview - extract from the document
                                                                                                                        PSG1407054PE




Model No. SA-PMX3DBEB
                  SA-PMX3E
                  SA-PMX3EG
                  SA-PMX3GN
                  SA-PMX4DBEB
                  SA-PMX4EG
                  SA-PMX4EP
Subject : Part No. Changes
       Please revise the original parts list in the Service Manual to conform to the change(s) shown herein.
       If new part numbers are shown, be sure to use them when ordering parts.
       Please file and use this manual together with the original service manual.


                                     Model No.                                                            Order No.
SA-PMX3DBEBS                                                                              MD0408003CE
SA-PMX3E/EG-S                                                                             MD0803007CE
SA-PMX3GN-S                                                                               MD0806017CE
SA-PMX4DBEBS                                                                              PSG0902023CE
SA-PMX4EG/EP-S                                                                            PSG0902021CE

Reason for Change
*The circled item indicates the reason. If no marking, see the Notes in the bottom column.
   1. Improve performance
 O 2. Change of material or dimension
   3. To meet approved specification
   4. Standardization
   5. Addition
   6. Deletion
   7. Correction
   8. Other

Interchangeability Code
                   **The circled item indicates the interchangeability. If no marking, see the Notes in the bottom column.
       Parts             Set Production
       Original           Early          Original or new parts may be used in early or late production set.
   A
       New                Late           Use original parts until exhausted, then stock new parts.



                                                                                
◦ Jabse Service Manual Search 2021 ◦ Jabse Pravopis ◦ onTap.bg ◦ Other service manual resources online : Fixya ◦ eServiceinfo