Service Manuals, User Guides, Schematic Diagrams or docs for : panasonic Monitor Panasonic_PT-47WX42F_PT-47WX42CF_PT-47WX52F_PT-47WX52CF_[SM]
<< Back
|
Home
Most service manuals and schematics are PDF files, so You will need Adobre Acrobat Reader to view : Acrobat Download Some of the files are DjVu format. Readers and resources available here : DjVu Resources
For the compressed files, most common are zip and rar. Please, extract files with Your favorite compression software ( WinZip, WinRAR ... ) before viewing. If a document has multiple parts, You should download all, before extracting.
Good luck. Repair on Your own risk. Make sure You know what You are doing.
Image preview - the first page of the document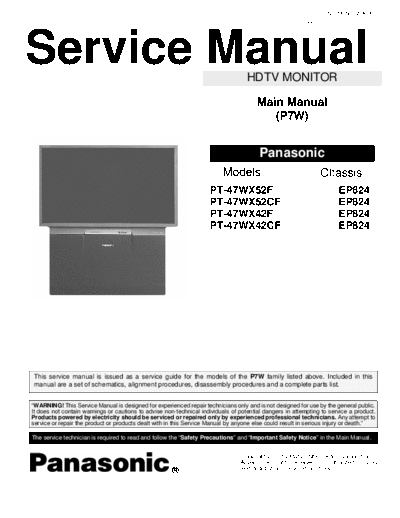 >> Download Panasonic_PT-47WX42F_PT-47WX42CF_PT-47WX52F_PT-47WX52CF_[SM] documenatation <<
Text preview - extract from the document
                                                                                                          ORDER NO. MTNC020409C1
                                                                                                          B2




Service Manual                                                                     HDTV MONITOR

                                                                                       Main Manual
                                                                                          (P7W)


                                                                                        Panasonic
                                                                         Models                                Chassis
                                                                     PT-47WX52F                                       EP824
                                                                     PT-47WX52CF                                      EP824
                                                                     PT-47WX42F                                       EP824
                                                                     PT-47WX42CF                                      EP824




 This service manual is issued as a service guide for the models of the P7W family listed above. Included in this
 manual are a set of schematics, alignment procedures, disassembly procedures and a complete parts list.


"WARNING! This Service Manual is designed for experienced repair technicians only and is not designed for use by the general public.
It does not contain warnings or cautions to advise non-technical individuals of potential dangers in attempting to service a product.
Products powered by electricity should be serviced or repaired only by experienced professional technicians. Any attempt to
service or repair the product or products dealt with in this Service Manual by anyone else could result in serious injury or death."

The service technician is required to read and follow the "Safety Precautions" and "Important Safety Notice" in the Main Manual.


                                                                                Copyright 2002 by Matsushita Electric Corporation of
                                                                                America. All rights reserved. Unauthorized copying
                                                                                and distribution is a violation of law.
                                                      
◦ Jabse Service Manual Search 2021 ◦ Jabse Pravopis ◦ onTap.bg ◦ Other service manual resources online : Fixya ◦ eServiceinfo