Service Manuals, User Guides, Schematic Diagrams or docs for : panasonic Monitor Panasonic_TH-37PX60U_TH-42PD60U_TH-42PD60X_TH-42PX600U_TH-42PX60U_TH-42PX6U_TH-50PX600U_TH-50PX60U_TH-50PX60X_TH-50PX60U_TH-58PX600u_TH-58PX60U_[SM]
<< Back
|
Home
Most service manuals and schematics are PDF files, so You will need Adobre Acrobat Reader to view : Acrobat Download Some of the files are DjVu format. Readers and resources available here : DjVu Resources
For the compressed files, most common are zip and rar. Please, extract files with Your favorite compression software ( WinZip, WinRAR ... ) before viewing. If a document has multiple parts, You should download all, before extracting.
Good luck. Repair on Your own risk. Make sure You know what You are doing.
Image preview - the first page of the document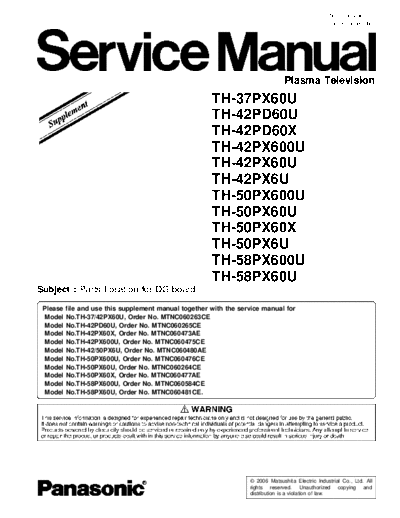 >> Download Panasonic_TH-37PX60U_TH-42PD60U_TH-42PD60X_TH-42PX600U_TH-42PX60U_TH-42PX6U_TH-50PX600U_TH-50PX60U_TH-50PX60X_TH-50PX60U_TH-58PX600u_TH-58PX60U_[SM] documenatation <<
Text preview - extract from the document
                                                                                           ORDER NO. ITD0609057SE
                                                                                                  B19 Canada: B07




                                                                                 Plasma Television
                                                       TH-37PX60U
                                                       TH-42PD60U
                                                       TH-42PD60X
                                                       TH-42PX600U
                                                       TH-42PX60U
                                                       TH-42PX6U
                                                       TH-50PX600U
                                                       TH-50PX60U
                                                       TH-50PX60X
                                                       TH-50PX6U
                                                       TH-58PX600U
                                                       TH-58PX60U
Subject : Parts Location for DG board
 Please   file and use this supplement manual together with the service manual for
 Model    No.TH-37/42PX60U, Order No. MTNC060263CE
 Model    No.TH-42PD60U, Order No. MTNC060265CE
 Model    No.TH-42PX60X, Order No. MTNC060473AE
 Model    No.TH-42PX600U, Order No. MTNC060475CE
 Model    No.TH-42/50PX6U, Order No. MTNC060480AE
 Model    No.TH-50PX600U, Order No. MTNC060476CE
 Model    No.TH-50PX60U, Order No. MTNC060264CE
 Model    No.TH-50PX60X, Order No. MTNC060477AE
 Model    No.TH-58PX600U, Order No. MTNC060584CE
 Model    No.TH-58PX60U, Order No. MTNC060481CE.




                                                                   
◦ Jabse Service Manual Search 2021 ◦ Jabse Pravopis ◦ onTap.bg ◦ Other service manual resources online : Fixya ◦ eServiceinfo