Service Manuals, User Guides, Schematic Diagrams or docs for : . Car Manuals Subaru Forester 1999-2004 Approved Subaru Forester 1999-2000 MECHANICAL COMPONENTS SECTION Wheels and Axles MSA5T0125A27773
<< Back
|
Home
Most service manuals and schematics are PDF files, so You will need Adobre Acrobat Reader to view : Acrobat Download Some of the files are DjVu format. Readers and resources available here : DjVu Resources
For the compressed files, most common are zip and rar. Please, extract files with Your favorite compression software ( WinZip, WinRAR ... ) before viewing. If a document has multiple parts, You should download all, before extracting.
Good luck. Repair on Your own risk. Make sure You know what You are doing.
Image preview - the first page of the document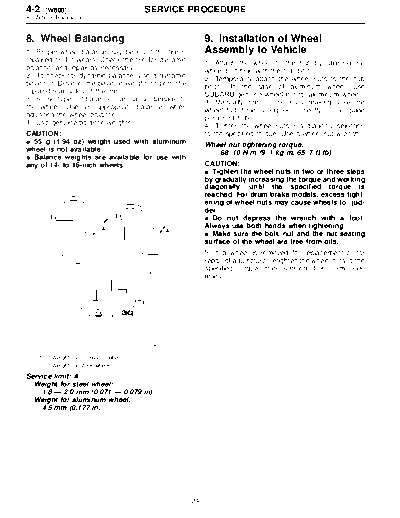 >> Download MSA5T0125A27773 documenatation <<
Text preview - extract from the document
4-2  [W800]                          SERVICE PROCEDURE
8. Wheel Balancing


8. Wheel Balancing                                         9. Installation of Wheel
1) Proper wheel balance may be lost if the tire is         Assembly to Vehicle
repaired or if it wears. Check the tire for dynamic        1) Attach the wheel to the hub by aligning the
balance, and repair as necessary.                          wheel bolt hole with the hub bolt.
2) To check for dynamic balance, use a dynamic             2) Temporarily attach the wheel nuts to the hub
balancer. Drive in the balance weight on both the          bolts. (In the case of aluminum wheel, use
top and rear sides of the rim.                             SUBARU genuine wheel nut for aluminum wheel.)
3) Some types of balancer can cause damage to              3) Manually tighten the nuts making sure the
the wheel. Use an appropriate balancer when                wheel hub hole is aligned correctly to the guide
adjusting the wheel balance.                               portion of hub.
4) Use genuine balance weights.                            4) Tighten the wheel nuts in a diagonal selection
CAUTION:                                                   to the specified torque. Use a wheel nut wrench.

◦ Jabse Service Manual Search 2021 ◦ Jabse Pravopis ◦ onTap.bg ◦ Other service manual resources online : Fixya ◦ eServiceinfo