Service Manuals, User Guides, Schematic Diagrams or docs for : . Car Manuals Subaru Forester 1999-2004 Approved Subaru Forester 2004 3 - Transmission Manual and Differential Manual Transmission Assembly
<< Back
|
Home
Most service manuals and schematics are PDF files, so You will need Adobre Acrobat Reader to view : Acrobat Download Some of the files are DjVu format. Readers and resources available here : DjVu Resources
For the compressed files, most common are zip and rar. Please, extract files with Your favorite compression software ( WinZip, WinRAR ... ) before viewing. If a document has multiple parts, You should download all, before extracting.
Good luck. Repair on Your own risk. Make sure You know what You are doing.
Image preview - the first page of the document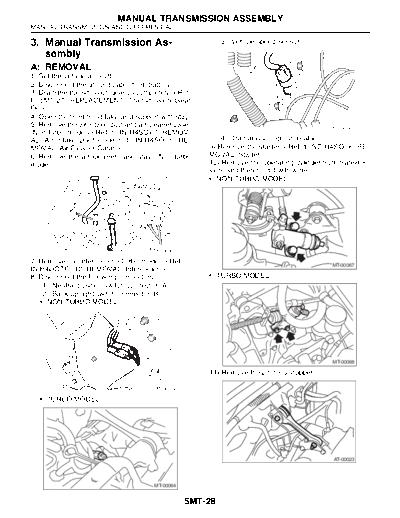 >> Download Manual Transmission Assembly documenatation <<
Text preview - extract from the document
                            MANUAL TRANSMISSION ASSEMBLY
MANUAL TRANSMISSION AND DIFFERENTIAL

3. Manual Transmission As-                                  (3) Vehicle speed sensor
   sembly
A: REMOVAL
1) Set the vehicle an a lift.
2) Disconnect the ground cable from battery.
3) Drain the transmission gear oil completely. 
4) Open the front hood fully, and support with stay.
5) Remove the air intake duct and air cleaner case.                                         MT-00065
(Non-turbo model) ,                               9) Remove the starter. 
model)                                                 10) Remove the operating cylinder from transmis-
                                                       sion, and then hold it with wires.
                                                       
◦ Jabse Service Manual Search 2021 ◦ Jabse Pravopis ◦ onTap.bg ◦ Other service manual resources online : Fixya ◦ eServiceinfo