Service Manuals, User Guides, Schematic Diagrams or docs for : . Car Manuals Subaru Legacy 2000-2003 Approved Subaru Legacy 2000 2000 Service Manual ENGINE SECTION Engine and Transmission Mounting System MSA5TCD00L16699
<< Back
|
Home
Most service manuals and schematics are PDF files, so You will need Adobre Acrobat Reader to view : Acrobat Download Some of the files are DjVu format. Readers and resources available here : DjVu Resources
For the compressed files, most common are zip and rar. Please, extract files with Your favorite compression software ( WinZip, WinRAR ... ) before viewing. If a document has multiple parts, You should download all, before extracting.
Good luck. Repair on Your own risk. Make sure You know what You are doing.
Image preview - the first page of the document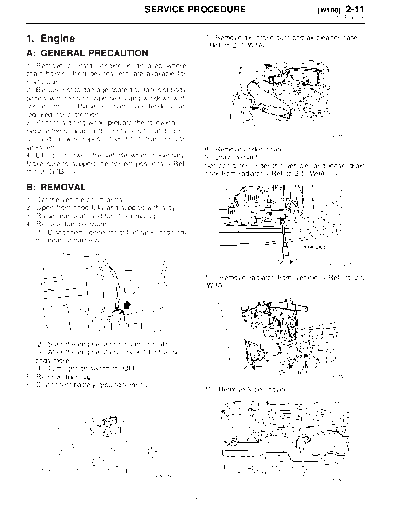 >> Download MSA5TCD00L16699 documenatation <<
Text preview - extract from the document
                                        SERVICE PROCEDURE                                      [W1B0] 2-11
                                                                                                   1. Engine


1. Engine                                                    7) Remove air intake duct and air cleaner case.
                                                             
A: GENERAL PRECAUTION
1) Remove or install engine in an area where
chain hoists, lifting devices, etc. are available for
ready use.
2) Be sure not to damage coated surfaces of body
panels with tools or stain seats and windows with
coolant or oil. Place a cover over fenders, as
required, for protection.
3) Prior to starting work, prepare the following:
Service tools, clean cloth, containers to catch cool-
                                                                                                   B2M3101
ant and oil, wire ropes, chain hoist, transmission
jacks, etc.                                                  8) Remove under cover.
4) Lift-up or lower the vehicle when necessary.              9) Drain coolant.
Make sure to support the correct positions.                                               cock from radiator. 
B: REMOVAL
1)    Set the vehicle on lift arms.
2)    Open front hood fully and support with stay.
3)    Raise rear seat, and turn floor mat up.
4)    Release fuel pressure.
     (1) Disconnect connector of fuel tank cord from
     the nearest harness.


                                                                                                  B2M2921A

                                                             10) Remove radiator from vehicle. 




                                           B2M3137

   (2) Start the engine, and run until it stalls.
   (3) After the engine stalls, crank it for five sec-
   onds more.
   (4) Turn ignition switch to "OFF".
5) Remove filler cap.                                                                              B2M2933

6) Disconnect battery ground terminal.
                                                             11) Remove V-belt cover.




                                          G6M0095
                                                                                                   B2M3401



                                                         7
2-11    [W1B0]                      SERVICE PROCEDURE
1. Engine


12) Collect refrigerant, and remove pressure          14) Disconnect the following connectors and
hoses. (With A/C)                                     cables.
   (1) Place and connect the attachment hose to          (1) Front oxygen sensor connector
   the refrigerant recycle system.
   (2) Collect refrigerant from A/C system.
   (3) Disconnect A/C pressure hoses from A/C
   compressor.




                                                                                        B2M3413

                                                        (2) Engine ground terminal

                                     B2M3385

13) Remove air cleaner case stay.

◦ Jabse Service Manual Search 2021 ◦ Jabse Pravopis ◦ onTap.bg ◦ Other service manual resources online : Fixya ◦ eServiceinfo