Service Manuals, User Guides, Schematic Diagrams or docs for : . Car Manuals Subaru Legacy 2000-2003 Approved Subaru Legacy 2000 2000 Service Manual MECHANICAL COMPONENTS SECTION WHEELS AND AXLES MSA5TCD00L17505
<< Back
|
Home
Most service manuals and schematics are PDF files, so You will need Adobre Acrobat Reader to view : Acrobat Download Some of the files are DjVu format. Readers and resources available here : DjVu Resources
For the compressed files, most common are zip and rar. Please, extract files with Your favorite compression software ( WinZip, WinRAR ... ) before viewing. If a document has multiple parts, You should download all, before extracting.
Good luck. Repair on Your own risk. Make sure You know what You are doing.
Image preview - the first page of the document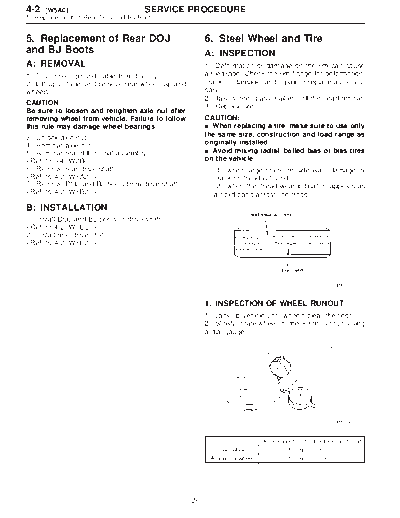 >> Download MSA5TCD00L17505 documenatation <<
Text preview - extract from the document
4-2   [W5A0]                        SERVICE         PROCEDURE
5. Replacement of Rear DOJ and BJ Boots


5. Replacement of Rear DOJ                               6. Steel Wheel and Tire
and BJ Boots                                             A: INSPECTION
A: REMOVAL                                               1) Deformation or damage on the rim can cause
1) Disconnect ground cable from battery.                 air leakage. Check the rim flange for deformation,
2) Lift-up vehicle, and remove rear wheel cap and        crack, or damage, and repair or replace as neces-
wheels.                                                  sary.
                                                         2) Take stone, glass, nail etc. off the tread groove.
CAUTION:
                                                         3) Replace tire:
Be sure to loosen and retighten axle nut after
removing wheel from vehicle. Failure to follow           CAUTION:
this rule may damage wheel bearings.                     
◦ Jabse Service Manual Search 2021 ◦ Jabse Pravopis ◦ onTap.bg ◦ Other service manual resources online : Fixya ◦ eServiceinfo