Service Manuals, User Guides, Schematic Diagrams or docs for : . Car Manuals Subaru Legacy 2000-2003 Approved Subaru Legacy 2000 2000 Service Manual TRANSMISSION AND DIFFERENTIAL SECTION Manual Transmission and Differential MSA5TCD00L18780
<< Back
|
Home
Most service manuals and schematics are PDF files, so You will need Adobre Acrobat Reader to view : Acrobat Download Some of the files are DjVu format. Readers and resources available here : DjVu Resources
For the compressed files, most common are zip and rar. Please, extract files with Your favorite compression software ( WinZip, WinRAR ... ) before viewing. If a document has multiple parts, You should download all, before extracting.
Good luck. Repair on Your own risk. Make sure You know what You are doing.
Image preview - the first page of the document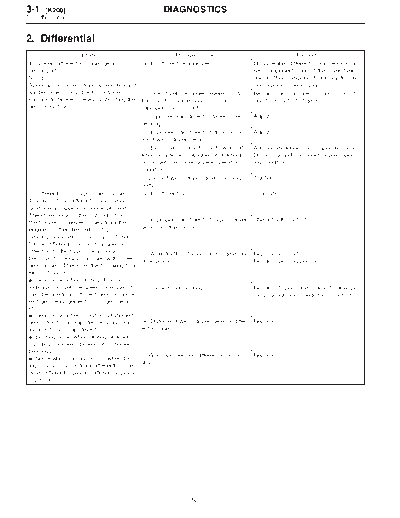 >> Download MSA5TCD00L18780 documenatation <<
Text preview - extract from the document
3-1    [K200]                                              DIAGNOSTICS
2. Differential


2. Differential
                  Symptom                                        Possible cause                                  Remedy
 1. Broken differential (case, gear,              (a) Insufficient or improper oil              Disassemble differential and replace bro-
 bearing, etc.)                                                                                 ken components and at the same time
 NOTE:                                                                                          check other components for any trouble,
 Abnormal noise will develop and finally it                                                     and replace if necessary.
 will become impossible to continue to            (b) Use of vehicle under severe condi-        Readjust bearing preload and backlash
 run due to broken pieces obstructing the         tions such as excessive load and              and face contact of gears.
 gear revolution.                                 improper use of clutch
                                                  (c) Improper adjustment of taper roller       Adjust.
                                                  bearing
                                                  (d) Improper adjustment of drive pinion       Adjust.
                                                  and hypoid driven gear
                                                  (e) Excessive backlash due to worn dif-       Add recommended oil to specified level.
                                                  ferential side gear, washer or differential   Do not use vehicle under severe operat-
                                                  pinion vehicle under severe operating         ing conditions.
                                                  conditions.
                                                  (f) Loose hypoid driven gear clamping         Tighten.
                                                  bolts
 2. Differential and hypoid gear noises           (a) Insufficient oil                          Lubricate.
 Troubles of the differential and hypoid
 gear always appear as noise problems.
 Therefore noise is the first indication of
 the trouble. However noises from the             (b) Improper adjustment of hypoid driven Check tooth contact.
 engine, muffler, tire, exhaust gas,              gear and drive pinion
 bearing, body, etc. are easily mistaken
 for the differential noise. Pay special
 attention to the hypoid gear noise               (c) Worn teeth of hypoid driven gear and Replace as a set.
 because it is easily confused with other         drive pinion                             Readjust bearing preload.
 gear noises. There are the following four
 kinds of noises.
 
◦ Jabse Service Manual Search 2021 ◦ Jabse Pravopis ◦ onTap.bg ◦ Other service manual resources online : Fixya ◦ eServiceinfo