Service Manuals, User Guides, Schematic Diagrams or docs for : . Various CHAP5
<< Back
|
Home
Most service manuals and schematics are PDF files, so You will need Adobre Acrobat Reader to view : Acrobat Download Some of the files are DjVu format. Readers and resources available here : DjVu Resources
For the compressed files, most common are zip and rar. Please, extract files with Your favorite compression software ( WinZip, WinRAR ... ) before viewing. If a document has multiple parts, You should download all, before extracting.
Good luck. Repair on Your own risk. Make sure You know what You are doing.
Image preview - the first page of the document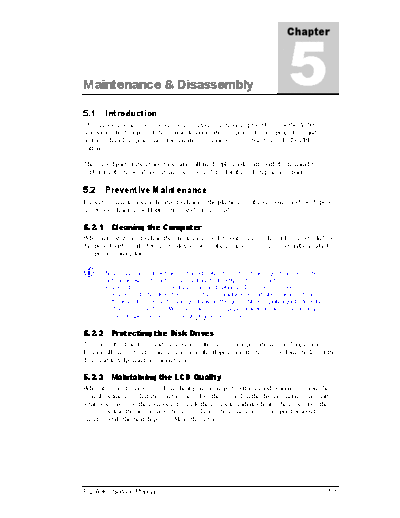 >> Download CHAP5 documenatation <<
Text preview - extract from the document
                                                                               5
                                                                               Chapter



Maintenance & Disassembly

5.1     Introduction
This section contains preventive and corrective maintenance procedures for the A360
notebook. The first part of the section describes the computer cleaning procedures and
preferred handling procedures for sensitive components (e.g. disk drives, LCD, CPU,
batteries).

The second part of the chapter identifies all field replaceable parts with the remainder
explaining the removal and replacement procedures for the field replaceable parts.

5.2     Preventive Maintenance
Preventive maintenance is limited to cleaning the plastic case, the keyboard, and the display
screen and cleaning the floppy drive heads as required.

5.2.1 Cleaning the Computer
When it is necessary to clean the plastic case and keyboard, use a soft lint-free cloth, slightly
dampened with a mild detergent solution, or use the contents of any commercially available
computer cleaning kit.

i       Never use alcohol, petroleum-based solvents, or harsh detergents to clean the
        notebook. Also, do not spray any liquids directly on the computer case,
        keyboard, or screen. If the liquid-crystal display (LCD) screen has become
        smeared or dusty, clean the screen by first applying a mild glass cleaner to a
        soft, clean, lint-free cloth, and gently wipe the glass. Never apply liquids directly
        on the screen surface. Moreover, do not use paper towels to clean the display
        screen. Paper can scratch the display screen matte.


5.2.2 Protecting the Disk Drives
To protect the disk drives and data, back up the system disk periodically on floppy diskettes.
Periodically use a head-cleaning diskette in the floppy diskette drive to prolong the life of the
drive and to help maintain data integrity.

5.2.3 Maintaining the LCD Quality
When it comes to screen problems, heat plays a big part. After a good working session, the
typical routine is to shut the machine and close the cover. But the display surface - no matter
what type it is - and the components inside the computer radiates heat; when you close the
cover, you trap the heat against the screen. Leave the computer's cover open for about ten
minutes while the heat disperses. Make this a habit.




FIC A360 Service Manual                                                                         5-1
                     Maintenance & Disassembly

5.2.4 Maintaining the Hard Disk Drive
The hard disk drive is one of the most common parts that always gets problem. Here is some
preventive maintenance that you can do when handling the hard disk.


◦ Jabse Service Manual Search 2019 ◦ Jabse Pravopis ◦ Other service manual resources online : Fixya ◦ eServiceinfo