Service Manuals, User Guides, Schematic Diagrams or docs for : MAKITA 6094D-TE
<< Back
|
Home
Most service manuals and schematics are PDF files, so You will need Adobre Acrobat Reader to view : Acrobat Download Some of the files are DjVu format. Readers and resources available here : DjVu Resources
For the compressed files, most common are zip and rar. Please, extract files with Your favorite compression software ( WinZip, WinRAR ... ) before viewing. If a document has multiple parts, You should download all, before extracting.
Good luck. Repair on Your own risk. Make sure You know what You are doing.
Image preview - the first page of the document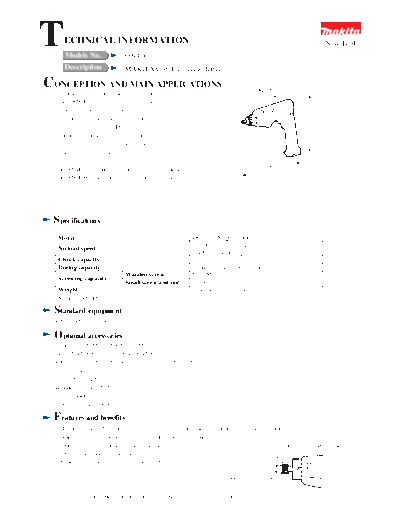 >> Download 6094D-TE documenatation <<
Text preview - extract from the document
T    ECHNICAL INFORMATION
      Models No.              6094D
                                                                                                                New Tool


      Description             MAKITA Cordless screw driver

CONCEPTION AND MAIN APPLICATIONS                                                          58
  The machine edge(tool mounting portion)
  of the 6093D has been reformed for use
  in the driver bit and designed for meeting
  the demands for the users who mainly




                                                                                                       262
  deal in screw fastening. Due to the built-in
  bit loading/unloading system, unlike our
  existing screw drivers, the bit can be easily
  detached just by one touch.

  The 6094D is the model without the battery and the charger.                             243
  The 6094DW is the model with battery and charger.




 Specifications
   Motor                                                 DC 9.6 V Magnet motor
                                                         0-1100/min. in high speed
   No load speed
                                                         0-400/min. in low speed
   Chuck capacity                                        1.5-10
   Boring capacity                                       10 mm for steel, 18 mm for wood
                               Wooden screw              5.5 x 55mm
   Screwing capacity
                               Small screw and nut       6 mm
   Weight                                                1.7kg (Including battery)
   Same as 6093D.

 Standard equipment
  + Bit 2-45 --- One piece

  Optional accessories
  Socket bit 5.5-55/7-55/8-55/10-55
  - Bit : 5-45/8-82/6-70/6.35-45/8-45/8-70,
  + Bit : 1-65/2-45/2-65/2-82/2-110/2-150/2-250/3-45/3-65/3-110
  Drill chuck set parts
  Drill 1.5, 2,3,4,5,6
  Wooden drill 9, 12,15
  Battery 9000
  12V fast charger DC9012

  Features and benefits
  1. Through just sliding the sleeve the driver bit can be loaded/unloaded easily.(see the below figure.)
  2. The spare bit can be housed in the holder at top of the machine.
  3. Once the drill chuck set parts(special accessories) have been attached, drilling process(capacity : 10 mm for steel,
     18 mm for wood) can be done.                                                          Sleeve
     Other than shown above are same as 6093D.

                                                                        Slide in this direction.


  The standard equipment for the tools shown may differ form country to country
Capacity
Same as 6093D.




Repair
Same as 6093D.

◦ Jabse Service Manual Search 2022 ◦ Jabse Pravopis ◦ onTap.bg ◦ Other service manual resources online : Fixya ◦ eServiceinfo