Service Manuals, User Guides, Schematic Diagrams or docs for : MAKITA 6200D-TE
<< Back
|
Home
Most service manuals and schematics are PDF files, so You will need Adobre Acrobat Reader to view : Acrobat Download Some of the files are DjVu format. Readers and resources available here : DjVu Resources
For the compressed files, most common are zip and rar. Please, extract files with Your favorite compression software ( WinZip, WinRAR ... ) before viewing. If a document has multiple parts, You should download all, before extracting.
Good luck. Repair on Your own risk. Make sure You know what You are doing.
Image preview - the first page of the document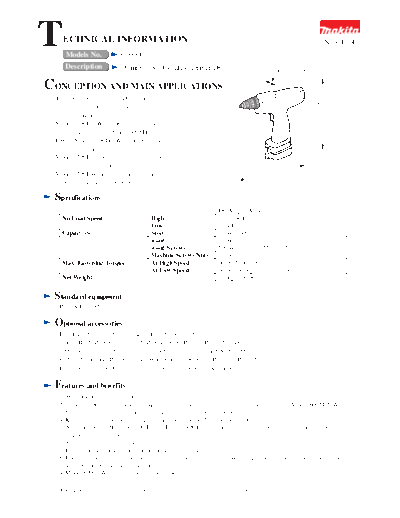 >> Download 6200D-TE documenatation <<
Text preview - extract from the document
T   ECHNICAL INFORMATION
     Models No.            6200D
                                                                                                                          New Tool


     Description           10 mm (3/8") Cordless Driver Drill                          60 mm (2-3/8")

CONCEPTION AND MAIN APPLICATIONS
  T-shaped Cordless Driver Drill which is




                                                                                                        245 mm (9-5/8")
  well balanced and thin-gripped for
  increased maneuverability.
  Model 6200D/DW is more powerful and
  efficient than existing Model 6095D/
  DW as Model 6200D/DW is equipped with
  an improved motor.
  Model 6200D is sold with battery cartridge
  but without fast charger.                                                                 ")
                                                                                      (9-1/2
  Model 6200DW includes battery cartridge                                     2 40 mm
  9100 and fast charger DC9100.

 Specifications
                                                                DC Magnet Motor (9.6 V)
    No Load Speed                     High                      0 - 1,100 R/min.
                                      Low                       0 - 400 R/min.
    Capacities                        Steel                     10 mm (3/8")
                                      wood                      18 mm (11/16")
                                      wood Screws               5.8 mm (7/32") x 55 mm (2-3/16")
                                      Machine Screws/Nuts       6 mm (1/4")
    Max. Fastening Torque             At High Speed             About 55 kg.cm (4.0 ft.lbs)
                                      At Low Speed              About 140 kg.cm (10.1 ft.lbs)
    Net Weight                                                  1.7 kg (3.8 lbs)


 Standard equipment
   Phillips Bit 2-65

 Optional accessories
   Drill Bit 1.5, 2, 3, 4, 5, 6 (for steel), Drill Bit 9, 12, 15 (for wood),
   Slotted Bit 5-45, 5-82, 6-70, 6.35-45, 8-45, 8-70, Phillips Bit 1-65, 2-45,
   2-65,2-82, 2-110, 2-150, 2-250, 3-45, 3-65, 3-110, Socket Bit 5.5-55, 7-55,
   8-55,10-55, Rubber Pad Assembly, Wool Bonnet 100, Foam Polishing Pad 125,
   Battery Cartridge 9100, 12V 1-hour Fast Charger DC9012 (Automotive Charger)

 Features and benefits
   1. Well balanced and thin-gripped tool for easy handling.
   2. Powerful DC magnet motor (its max. output is about 25% higher than that of the existing Model 6095D/DW).
   3. Offers 12 different torque settings with two variable speeds for perfect driving.
   4. Keyless drill chuck for fast installation/removal of bit. No chuck key to lose.
   5. Variable speeds (High: 0-1,100 R/min; Low: 0-400 R/min) allow easy starting of bit and selecting of speed
     suitable for your work.
   6. Reversing feature for screw/bit removal.
   7. Electric brake quickly stops chuck for perfect control when driving screws.
   8. Improved motor which does not require overload protector. This means that you can continue to work without
      interruption by overload protector.
   9. Model 6200DW includes steel carrying case.

   The standard equipment for the tools shown may differ form country to country.

◦ Jabse Service Manual Search 2023 ◦ Jabse Pravopis ◦ onTap.bg ◦ Other service manual resources online : Fixya ◦ eServiceinfo