Service Manuals, User Guides, Schematic Diagrams or docs for : MAKITA 63004-TE
<< Back
|
Home
Most service manuals and schematics are PDF files, so You will need Adobre Acrobat Reader to view : Acrobat Download Some of the files are DjVu format. Readers and resources available here : DjVu Resources
For the compressed files, most common are zip and rar. Please, extract files with Your favorite compression software ( WinZip, WinRAR ... ) before viewing. If a document has multiple parts, You should download all, before extracting.
Good luck. Repair on Your own risk. Make sure You know what You are doing.
Image preview - the first page of the document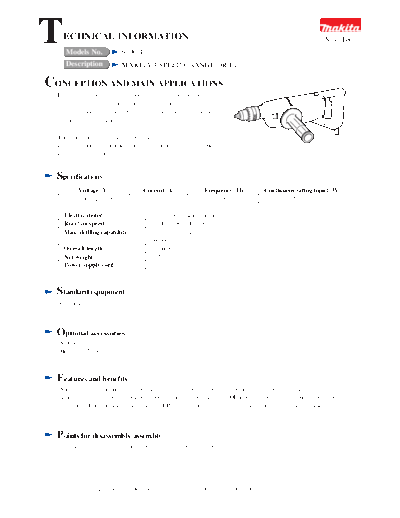 >> Download 63004-TE documenatation <<
Text preview - extract from the document
T   ECHNICAL INFORMATION
     Models No.            6300-4
                                                                                                           New Tool


     Description          MAKITA 4 SPEED CHANGE DRILL

CONCEPTION AND MAIN APPLICATIONS
  For a wide range of use, this model features a total 4- speed
  change mechanism (2 mechanical speed reduction and 2
  electrical speed reduction). Optimal rotation speed and torque
  can be selected depending on processing materials and drill
  diameters.
  The quiet sound in electrical low rotation speed will help to
  increase working efficiency without disturbing the environment
  in the neighborhood.


  Specifications
         Voltage (V)                Current (A)             Frequency (Hz)          Continuous rating input (W)
       Single phase 100                7                       50-60                        650

    Electric motor                     series commutator motor
    Rotation speed                     1300, 1100, 600, 500 r.p.m
    Max. drilling capability           Iron      13mm
                                       Wood      30mm
    Overall length                     370mm
    Net weight                         3.2kg
    Power supply cord                  2.5m



  Standard equipment
  Chuck key



  Optional accessories
  Stopper Pole
  Hole Saw 79, 95



  Features and benefits
  Slide system of this model can be change rotation speed smoothly. . Detachable rubber grip in the front and rear
  handle are helpful for comfortable work. The torque more than 6300L level will be gained by mechanical speed
  reduction. Rotation speed more than 6300B.will be gained in high speed. This model is double insulated.



  Points for disassembly/assembly
  Turn the slide button to the low speed side for attaching/detaching of spur gear 7-13.




   The standard equipment for the tools shown may differ form country to country.

◦ Jabse Service Manual Search 2023 ◦ Jabse Pravopis ◦ onTap.bg ◦ Other service manual resources online : Fixya ◦ eServiceinfo