Service Manuals, User Guides, Schematic Diagrams or docs for : MAKITA 6800DBV-TE
<< Back
|
Home
Most service manuals and schematics are PDF files, so You will need Adobre Acrobat Reader to view : Acrobat Download Some of the files are DjVu format. Readers and resources available here : DjVu Resources
For the compressed files, most common are zip and rar. Please, extract files with Your favorite compression software ( WinZip, WinRAR ... ) before viewing. If a document has multiple parts, You should download all, before extracting.
Good luck. Repair on Your own risk. Make sure You know what You are doing.
Image preview - the first page of the document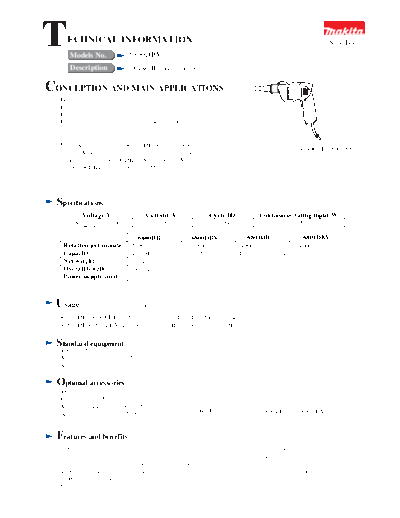 >> Download 6800DBV-TE documenatation <<
Text preview - extract from the document
T    ECHNICAL INFORMATION
      Models No.            6800DBV
                                                                                                       New Tool


      Description           Drywall screwdriver

CONCEPTION AND MAIN APPLICATIONS
   Heavy-duty screwdriver for applying drywall to metal studs.
   Lightweight for easy handling.
   Driver bits and magnetic bit holder are easily installed.
   Features a depth sensitive clutch mechanism and durable
   polycarbonate housing.

   Note: Although we sold #6800DB before as Speed
                                                                               Illustration.: #6800DB(6800dBV)
   Change Model, we will sell two types of the model
   from now on ---- #6800DB as Single Speed Model
   and #6800DBV asSpeed Change Model




  Specifications
           Voltage(V)             Current(A)              Cycle(Hz)          Continuous rating input(W)
        Single phase 100              3.8                   50-60                        350

                               6800DB             6800DBV               6801DB            6801DBV
    Rotation per minute      2500/min.           0-2500/min           4000/min         0-4000/min
    Capacity                 Tex, Hex dry wall screw 5mm              Dry wall screw 4mm
    Net weight               1.3 kgs
    Overall length           280 mm
    Power supply cord        2.5 m



  U sage     (point in selecting a model)
   #6800DB, #6800DBV : For boards or for Tex/Hex (5mm or smaller)
   #6801DB #6801DBV: For boards only. High speed rotation. High efficiency.


  Standard equipment
   + Bit 2-25
   Magnetic connect bit 6.35-76
   Steel case

  Optional accessories
   +Bit 1-25
   Connect bit 6.35-76(without magnetic stone)
   Magnetic socket bit 5/16" - 65
                                               for 5mm Hex          Only for 6800DB and 6800DBV
   Adjust sleeve assembly 5/16


  Features and benefits
   1) Owing to application of magnetic bit, screws never fall off so that you can work efficiently.
   2) Triple dust prevention treatment is done at the end, and dust cover is attached to the switch.
      Therefore, troubles rarely occur by plaster powder.
   4) As it is especially light(1.3kgs), you can operate easily without exhaustion even in working for ceilings.
   5) With carry hook
   6) Double insulation
  A ssembly/D isassembly
When replace Spindle complete or Helical gear
( see the Figure), enclose 1g.into Front part of Spindle
(for dust- proof), 3.5g into Clutch part, approx.2g of                                  2g
Morab alloy grease No.2 into teeth part of Helical gear.       Spindle complete
 Besides, if grease stays too much in Gear part of
Armature shift, it may cause heat.                                                                Helical gear




                                                               1g (dust-proof)

                                                                                 3.5g
                                                                                             Armature




 P ostscript
Although Gear-housing and Gear-housing-cover of 6800DB/6800 DBV are plastic, the durability or
falling strength (3m. all right) is not inferior to aluminum one.

◦ Jabse Service Manual Search 2023 ◦ Jabse Pravopis ◦ onTap.bg ◦ Other service manual resources online : Fixya ◦ eServiceinfo