Service Manuals, User Guides, Schematic Diagrams or docs for : MAKITA 9005B-TE
<< Back
|
Home
Most service manuals and schematics are PDF files, so You will need Adobre Acrobat Reader to view : Acrobat Download Some of the files are DjVu format. Readers and resources available here : DjVu Resources
For the compressed files, most common are zip and rar. Please, extract files with Your favorite compression software ( WinZip, WinRAR ... ) before viewing. If a document has multiple parts, You should download all, before extracting.
Good luck. Repair on Your own risk. Make sure You know what You are doing.
Image preview - the first page of the document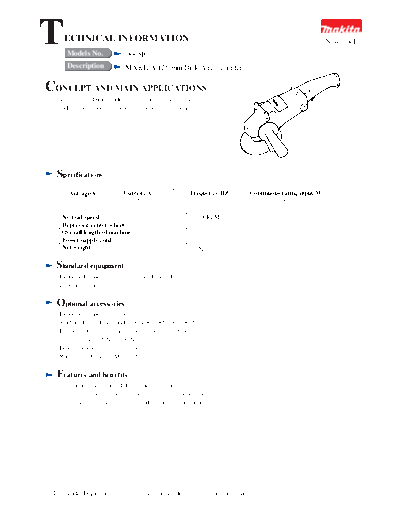 >> Download 9005B-TE documenatation <<
Text preview - extract from the document
T    ECHNICAL INFORMATION
      Models No.             9005B
                                                                                                          New Tool


      Description            MAKITA 125 mm Disk/Angle grinder

CONCEPT AND MAIN APPLICATIONS
   The 125 mm Disk grinder with the double insulation structure
   and the high speed rotation that can be easily handled.




  Specifications
       Voltage(V)           Current(A)                Frequency(HZ)          Continuous rating input(W)
         100                   9.5                       50, 60                       900

    No load speed                                     10,000RPM
    Depressed center wheel                            125 x 6 x 22 mm
    Overall length of machine                         356 mm
    Power supply cord                                 2.5 m
    Net weight                                        2.7 kg


  Standard equipment
   Depressed center wheel 36P(mounted on body)
   Lock nut wrench 28


  Optional accessories
   Depressed center wheel 24P
   Sanding disc as Disc grinder (#24, #30, #50, #80, #120)
   Rubber pad 115, Lock nut 16-48 or 14-48 or 5/8-48
   Cut off wheel 125-No.10 & N0.12
   Inner flange 40(for Cut off wheel)
   Wire brush 90(Screw M16 x1.5)


  Features and benefits
   1.It can be easily handled due to the light weight
   2.The high speed rotation enables the high working efficiency
   3.Various special accessories provide various applications




 The standard equipment for the tools shown may differ from country to country.

◦ Jabse Service Manual Search 2023 ◦ Jabse Pravopis ◦ onTap.bg ◦ Other service manual resources online : Fixya ◦ eServiceinfo