Service Manuals, User Guides, Schematic Diagrams or docs for : MAKITA 910-TE
<< Back
|
Home
Most service manuals and schematics are PDF files, so You will need Adobre Acrobat Reader to view : Acrobat Download Some of the files are DjVu format. Readers and resources available here : DjVu Resources
For the compressed files, most common are zip and rar. Please, extract files with Your favorite compression software ( WinZip, WinRAR ... ) before viewing. If a document has multiple parts, You should download all, before extracting.
Good luck. Repair on Your own risk. Make sure You know what You are doing.
Image preview - the first page of the document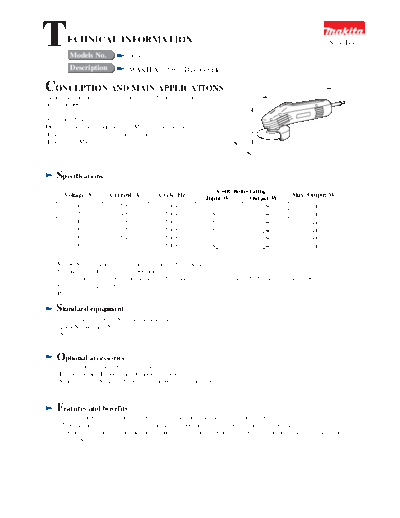 >> Download 910-TE documenatation <<
Text preview - extract from the document
T       ECHNICAL INFORMATION
         Models No.                910
                                                                                                                       New Tool


         Description               MAKITA 115mm Disc Grinder

CONCEPTION AND MAIN APPLICATIONS                                                                     255 (10")
 This machine model is disc grinder with 115mm-disc grind
basing on 900 series by cross arrow design.




                                                                                 114 (4-3/16")
And model M910 is designed for export only.
Difference between model 910 and M910 is color of housing.
(Housing for 910 is green (standard color).)
(Housing for M910 is red)                                                   12
                                                                              8(
                                                                                     5"
                                                                                                 )




    Specifications
                                                                  Continuous rating
       Voltage (V)       Current (A)        Cycle (Hz)                                                Max. Output(W)
                                                               Input(W)      Output(W)
          100                5.5               50/60             520              280                            600
          115                4.8               50/60             520              280                            600
          200                2.8               50/60             520              280                            600
          220                2.5               50/60             520              280                            600
          230                2.4               50/60             520              280                            600
          240                2.3               50/60             520              280                            600

    Motor: Single-phase series commutator motor (55 Type-45)
    No load speed (R: rotation): 10,000/min.
    Offset grinding wheel :Outside diameter 115 x thickness 6 x inside diameter 22.23 (4 1/"2x 1/4" x 7/8")
    Net weight :1.6kg (3.15lb)
    Power supply cord: 2m (6.6 ft)

    Standard equipment
     Offset grinder 115-36 (Mounted on machine)
     Lock Nut Wrench 20
     Spanner 12


    Optional accessories
     Side grip, Grip holder, Offset 115-24
     Rubber pad set (Rubber pad 100, lock nut 14-48)
     Sanding disc 115-24, 30, 50, 80, 120, and Wire cup brush 7,85



    Features and benefits
      1. In this model, conventional appearance of disc grinder is changed completely by cross arrow design.
      2. Switch lever is arranged at the top of machine body to allow easy accessible from both right and left hands.
      3. Gripping portion of machine body is improved as slim as possible to allow easy gripping with good grip feeling
         without giving fatigue.
 Repair
Be sure to assemble pushing lever with hand so that switch lever would not jump out by spring force
when housing L is assembled.

◦ Jabse Service Manual Search 2022 ◦ Jabse Pravopis ◦ onTap.bg ◦ Other service manual resources online : Fixya ◦ eServiceinfo