Service Manuals, User Guides, Schematic Diagrams or docs for : MAKITA BO4510-TE
<< Back
|
Home
Most service manuals and schematics are PDF files, so You will need Adobre Acrobat Reader to view : Acrobat Download Some of the files are DjVu format. Readers and resources available here : DjVu Resources
For the compressed files, most common are zip and rar. Please, extract files with Your favorite compression software ( WinZip, WinRAR ... ) before viewing. If a document has multiple parts, You should download all, before extracting.
Good luck. Repair on Your own risk. Make sure You know what You are doing.
Image preview - the first page of the document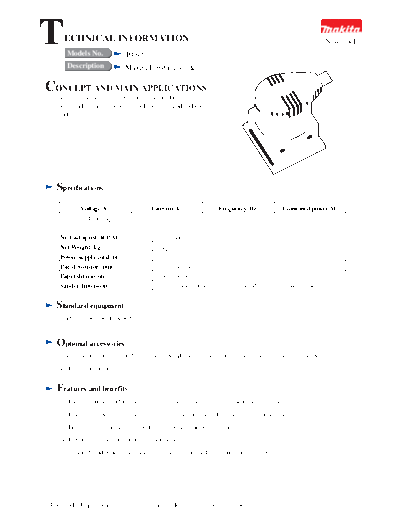 >> Download BO4510-TE documenatation <<
Text preview - extract from the document
T    ECHNICAL INFORMATION
      Models No.                BO4510
                                                                                                                New Tool


      Description              Makita Finishing sander

CONCEPT AND MAIN APPLICATIONS
   The purpose of the development was to produce a small and
   light sander which can be operated with one hand and is easy
   and safe to use.




  Specifications
            Voltage(V)                    Current(A)                  Frequency(Hz)              Consumed power(W)
        100 volt and higher


   No load speed (R.P.M.)                   1200/min
   Net Weight (kg)                          1 Kg
   Power supply cord (m)                    2.5m
   Pad dimension (mm)                       100mm x 114mm
   Paper dimension                          114mm x 140mm
   Sander dimension                         115 mm in total length x 100 mm in width x 126 mm in total height


  Standard equipment
   Sand paper #60, #100, & #150 (two each)



  Optional accessories
   Sand paper #60, #100, & #150 (10 each) (Standard size sand paper available in the market (228 x 280 mm) can be

   used by cutting it into four parts.)


  Features and benefits
   (1) It is small in size and light in weight of 1.1 kg to allow you to operate it with one hand.

   (2) It has the shape for easy use so that you may not be fatigued with its use for a long time.

   (3) High r.p.m. provided by the model produces the fine finish surfaces.

   (4) It generates almost no unpleasant vibration.

   (5) Standard sand paper available in the market can be used by cutting it into four parts.




The standard equipment for the tools shown may differ from country to country.
Capacity
There is no difference in efficiency compared to other companies' counterparts(domestic and oversea). This product
exceeds in handling due to its weight and shape.


Repair
(1) Never damage the round shaft in the foot.
    
◦ Jabse Service Manual Search 2023 ◦ Jabse Pravopis ◦ onTap.bg ◦ Other service manual resources online : Fixya ◦ eServiceinfo