Service Manuals, User Guides, Schematic Diagrams or docs for : MAKITA DP4700-TE
<< Back
|
Home
Most service manuals and schematics are PDF files, so You will need Adobre Acrobat Reader to view : Acrobat Download Some of the files are DjVu format. Readers and resources available here : DjVu Resources
For the compressed files, most common are zip and rar. Please, extract files with Your favorite compression software ( WinZip, WinRAR ... ) before viewing. If a document has multiple parts, You should download all, before extracting.
Good luck. Repair on Your own risk. Make sure You know what You are doing.
Image preview - the first page of the document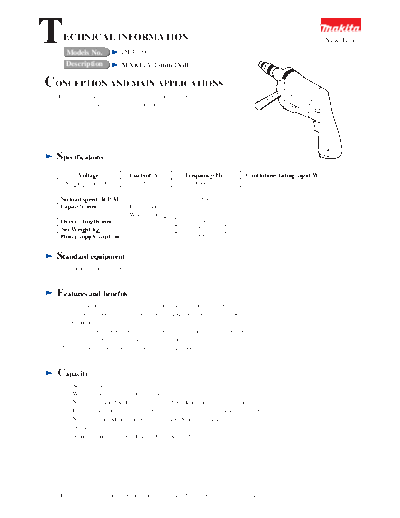 >> Download DP4700-TE documenatation <<
Text preview - extract from the document
T   ECHNICAL INFORMATION
     Models No.             DP4700
                                                                                                         New Tool


     Description            MAKITA 13mm Drill

CONCEPTION AND MAIN APPLICATIONS
  This is the light weight and low priced handgun type 13 mm
  drill unit equipped with the variable speed and reversible switch.




  Specifications
          Voltage              Current(A)            Frequency(Hz)          Continuous rating input(W)
     Single phase 100V           5.5                    50-60                         510

   No load speed (R.P.M.)                                0 - 500
   Capacity(mm)                Iron working                13
                               Wood working                36
   Overall length(mm)                                     275
   Net Weight(kg)                                         2.0
   Power supply cord (m)                                  2.5


  Standard equipment
  Complete chuck assembly S13



  Features and benefits
  (1) Its variable speed drive and reversible switch provide random
      rotational speeds suitable for works to make jobs conducted efficiently.
  (2) Compact, light in weight, and easy to use.
  (3) The carrying hook attached to the body is convenient to carry or store the unit.
  (4) It can be mounted on the 43 type drill stand.
  (5) The grip can be attached to both sides of the body.



  Capacity
  (1) Service load
      Wood working with the drill diameter of 36mm
      Normally 4.4 to 5A (Lauan) and 5 to 5.5A (Hemlock and soft pine material)
      Iron working (mounted on the drill stand) with the drill diameter of 13 mm
      Normally 4A (Aluminum plate) and 4.4A (Mild steel plate)
  (2) Working efficiency
      Almost same as for 6013B-R (100V, 7A, and 550 r.p.m.).




  The standard equipment for the tools shown may differ from country to country.

◦ Jabse Service Manual Search 2023 ◦ Jabse Pravopis ◦ onTap.bg ◦ Other service manual resources online : Fixya ◦ eServiceinfo