Service Manuals, User Guides, Schematic Diagrams or docs for : MAKITA HK1810-TE
<< Back
|
Home
Most service manuals and schematics are PDF files, so You will need Adobre Acrobat Reader to view : Acrobat Download Some of the files are DjVu format. Readers and resources available here : DjVu Resources
For the compressed files, most common are zip and rar. Please, extract files with Your favorite compression software ( WinZip, WinRAR ... ) before viewing. If a document has multiple parts, You should download all, before extracting.
Good luck. Repair on Your own risk. Make sure You know what You are doing.
Image preview - the first page of the document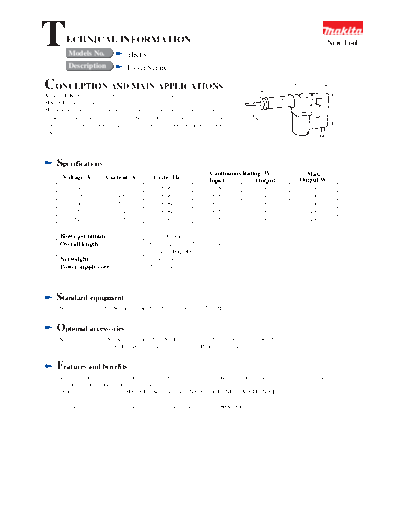 >> Download HK1810-TE documenatation <<
Text preview - extract from the document
T       ECHNICAL INFORMATION
         Models No.                HK1810
                                                                                                             New Tool


         Description               Power Scraper

CONCEPTION AND MAIN APPLICATIONS                                                               315

Model HK1810 is equipped with a variable speed function which
HK1800 does not have.
Hammering power can be adjusted so the operation range is wide in




                                                                                                                 192
various construction site such as small chipping work, peeling off of          85
joints, installation work of glass, waterproofing work, plastering work,
and all that.




    Specifications
                                                                  Continuous Rating (W)                Max.
       Voltage (V)      Current (A)         Cycle (Hz)                                               Output(W)
                                                                  Input           Output
           100               5.2              50/60                505             180                  400
           115               4.5              50/60                505             180                  400
           200               2.6              50/60                505             180                  400
           220               2.4              50/60                505             180                  400
           240               2.2              50/60                505             180                  400

     Blows per minute                     0 - 3200 /min
     Overall length                       Outer diameter 12 x length 40 mm
                                          (same as HK1800)
     Net weight                           3.2kg (7lbs)
     Power supply cord                    5m (16.4ft)




    Standard equipment
     Scaling chisel 30-50, Scaling chisel 50-150, Bull point 13-220, Hex. wrench


    Optional accessories
     Scaling chisel 30-150, Scaling chisel 50-150, Bull point 13-220, Grooving chisel 8-170,
     Grooving chisel 12-170, Hammer grease (contains 30g), Protector glasses


    Features and benefits
     Variable speed change function enables optimum setting of hammering power so that even the soft material
     can be chaplet work without scratching or damaging.
     Other features are same as HK1800 ( See document NEW TOOL INFORMATION BL- 1039.)

     Comparison chart and the procedures for repair work is same as #HK1800.

◦ Jabse Service Manual Search 2022 ◦ Jabse Pravopis ◦ onTap.bg ◦ Other service manual resources online : Fixya ◦ eServiceinfo