Service Manuals, User Guides, Schematic Diagrams or docs for : MAKITA HM0810-TE
<< Back
|
Home
Most service manuals and schematics are PDF files, so You will need Adobre Acrobat Reader to view : Acrobat Download Some of the files are DjVu format. Readers and resources available here : DjVu Resources
For the compressed files, most common are zip and rar. Please, extract files with Your favorite compression software ( WinZip, WinRAR ... ) before viewing. If a document has multiple parts, You should download all, before extracting.
Good luck. Repair on Your own risk. Make sure You know what You are doing.
Image preview - the first page of the document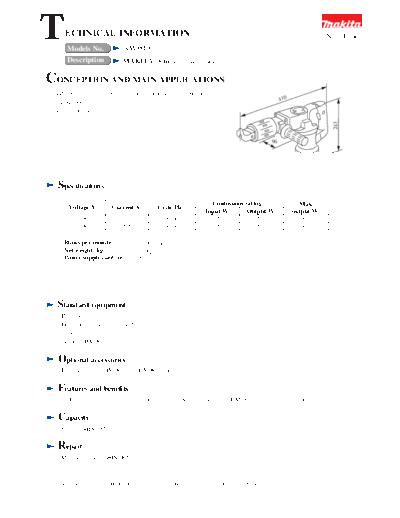 >> Download HM0810-TE documenatation <<
Text preview - extract from the document
T   ECHNICAL INFORMATION
     Models No.           HM0810
                                                                                                           New Tool


    Description           MAKITA Demolition hammer

CONCEPTION AND MAIN APPLICATIONS
 HM0810 was developed for export, but is sold in domestic
 market too.                                                                             410
 Double insulation.




                                                                                                            243
                                                                                    96




  Specifications
                                                               Continuous rating                 Max.
     Voltage(V)      Current(A)        Cycle(Hz)
                                                            Input(W)       Output(W)           output(W)
         100              11              50/60               1050             520                820
         200              5.5             50/60               1050             520                820

   Blows per minute              2900 /min
   Net weight (kg)               5.3kg
   Power supply cord (m)         5m




  Standard equipment
  Bull spoint
  Hexagonal stick spanner 4, 5
  Spoid54
  (same as HM0821)


  Optional accessories
  In common with HM0821 and HM0811, etc.


  Features and benefits
  1. Electrically safe double-insulation structure. Same properties as HM0821 except the insulation way.

  Capacity
  Same as #HM0821.

  Repair
  Method: Same as #HM0821.



  The standard equipment for the tools shown may differ from country to country.

◦ Jabse Service Manual Search 2022 ◦ Jabse Pravopis ◦ onTap.bg ◦ Other service manual resources online : Fixya ◦ eServiceinfo