Service Manuals, User Guides, Schematic Diagrams or docs for : MAKITA HM0810B-TE
<< Back
|
Home
Most service manuals and schematics are PDF files, so You will need Adobre Acrobat Reader to view : Acrobat Download Some of the files are DjVu format. Readers and resources available here : DjVu Resources
For the compressed files, most common are zip and rar. Please, extract files with Your favorite compression software ( WinZip, WinRAR ... ) before viewing. If a document has multiple parts, You should download all, before extracting.
Good luck. Repair on Your own risk. Make sure You know what You are doing.
Image preview - the first page of the document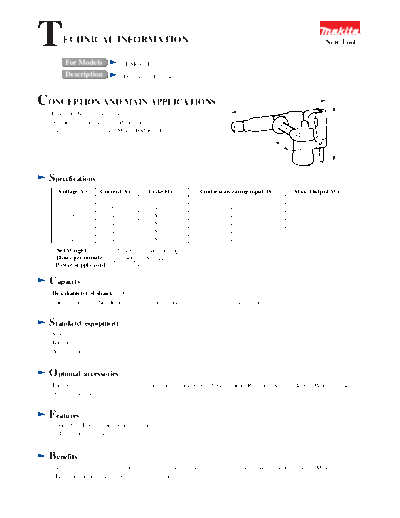 >> Download HM0810B-TE documenatation <<
Text preview - extract from the document
T     ECHNICAL INFORMATION                                                                                   New Tool

       For Models              HM0810B
       Description            Demolition Hammer



CONCEPTION AND MAIN APPLICATIONS                                                         423
  It accepts Bosch type spline drive bits.
  All the other mechanical and elecrtical features are
  identical with the existing Model HM0810 Hammer.




                                                                                                                243
                                                                                         98




  Specifications
    Voltage(V)         Current(A)       Cycle(Hz)          Continuous rating input(W)           Max. Output(W)
         -                 -                -                          -                              -
       115                8.3            50/60                       420                             820
       200                4.8            50/60                       420                             820
       220                4.3            50/60                       420                             820
       230                4.1            50/60                       420                             820
       240                4.0            50/60                       420                             820
    Net Weight              5.3kgs (without side grip)
    Blows per minute        2,900bpm (No load)
    Power supply cord       5m (16.4ft)

  Capacity
  Hex diameter of shank : 19mm
  The machines handles demolishing, scooping, bushing, grooving or anchoring works.


  Standard     equipment
  Steel carring case
  Bull point
  Allen wreuch


  Optional     accessories
  Bull point, Cold chisel, Scaling chisel, Grooving chisel, Scoop, Bushing head, Rammer, Anchor adapter, Makita grease,
  Wrench and Spoid.


  Features
  1. Good for Bosch-type spline drive bits
  2. The improved tool retainer


  Benefits
  *Very economical and convenient as you can make the most of the bits of other makes on hand as well as Makita bits.
  *Easy and quick to install or remove bits, by simple swist of retainer.

◦ Jabse Service Manual Search 2023 ◦ Jabse Pravopis ◦ onTap.bg ◦ Other service manual resources online : Fixya ◦ eServiceinfo