Service Manuals, User Guides, Schematic Diagrams or docs for : MAKITA HP1030-TE
<< Back
|
Home
Most service manuals and schematics are PDF files, so You will need Adobre Acrobat Reader to view : Acrobat Download Some of the files are DjVu format. Readers and resources available here : DjVu Resources
For the compressed files, most common are zip and rar. Please, extract files with Your favorite compression software ( WinZip, WinRAR ... ) before viewing. If a document has multiple parts, You should download all, before extracting.
Good luck. Repair on Your own risk. Make sure You know what You are doing.
Image preview - the first page of the document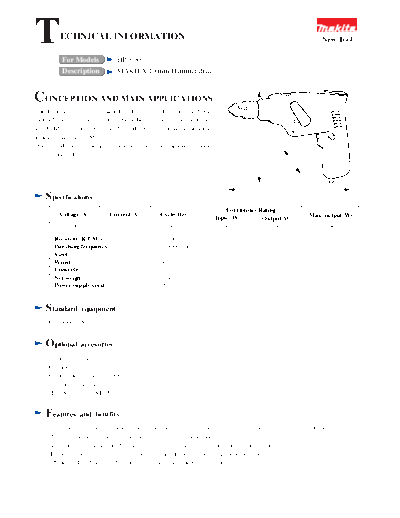 >> Download HP1030-TE documenatation <<
Text preview - extract from the document
T        ECHNICAL INFORMATION                                                                                         New Tool

          For Models             HP1030
          Description            MAKITA 10 mm Hammer drill


CONCEPTION AND MAIN APPLICATIONS
The domestic sales will be started for HP1030 model which has been
handled only for export purpose. Regardless of the similar model as
the MHP1020, this model will be sold for professional application
instead of sales as the M-series.
With the addition of the normal/reverse switch, the function has been




                                                                                         180
further enriched.




                                                                                                        67
                                                                                                       270
    Specifications
                                                                             Continuous Rating
         Voltage (V)          Current(A)           Cycle(Hz)             Input(W)                               Max. output(W)
                                                                                         Output(W)
             100                   4.5                50/60                430               200                       300

       Rotation (R.P.M.)                          0-2700/min
       Punching frequency                         0-29700/min
       Steel                                      10 mm
       Wood                                       18 mm
       Concrete                                   10 mm
       Net weight                                 1.6 kg
       Power supply cord                          2.5 m


    Standard       equipment
     Chuck key : S10


    Optional       accesories
     Stopper pole assembly
     Carbide drill
     Grindstone with shaft : 50-80
     Dropping pipet 54
     Hex. Nut 3/8-24UNF *Note (1)


    Features       and benifits
      Only through switching the knob, it can be used not only as the drill, but also as the vibration drill for concrete.
      The great power can be generated regardless of the compact body.
      The non-step variable speed switch enables to select the best rotation for the application.
      It also can be used as the screw driver with the addition of the normal/reverse switch.
      *Note (1) This Nut is used for mounting each attachment of carpenter set.
Cautions    in handling
Make sure if the normal/reverse switch is set at the normal when this device is used as the vibration drill.
Do not switch to the normal/reverse suddenly to avoid damaging the motor.




Cautions    in disassembling
The screw is mounted inside the hole of drill chuck to prevent the chuck from loosening. Loosen this screw at first when
removing the drill chuck.
The screw is left-handed.

Since the "Cautions in handling" and "Cautions in assembling/disassembling" and "Capacity" other than shown above are
the same as the ones for MH1020, they are omitted.

◦ Jabse Service Manual Search 2022 ◦ Jabse Pravopis ◦ onTap.bg ◦ Other service manual resources online : Fixya ◦ eServiceinfo