Service Manuals, User Guides, Schematic Diagrams or docs for : MAKITA T422D-TE
<< Back
|
Home
Most service manuals and schematics are PDF files, so You will need Adobre Acrobat Reader to view : Acrobat Download Some of the files are DjVu format. Readers and resources available here : DjVu Resources
For the compressed files, most common are zip and rar. Please, extract files with Your favorite compression software ( WinZip, WinRAR ... ) before viewing. If a document has multiple parts, You should download all, before extracting.
Good luck. Repair on Your own risk. Make sure You know what You are doing.
Image preview - the first page of the document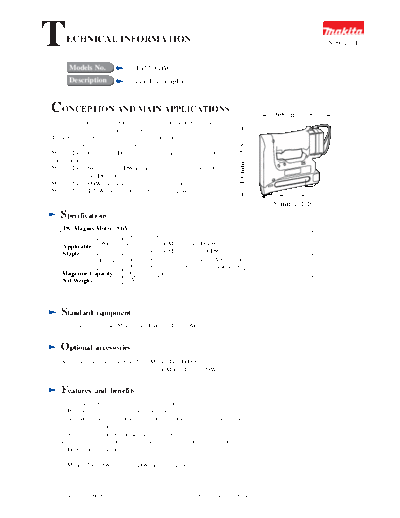 >> Download T422D-TE documenatation <<
Text preview - extract from the document
T    ECHNICAL INFORMATION                                                                                  New Tool


      Models No.                T422D/DW
      Description               Cordless Stapler


CONCEPTION AND MAIN APPLICATIONS                                                           199mm(7-7/8")
Cordless Staplers were developed to increase the maneuverability
and portability of conventional air or electric staplers.
These Cordless Staplers can travel with you right to the job,




                                                                           193mm(7-5/8")
no matter how far you may be from the power source.
Models T422D and T1022D are sold with a battery cartridge 9100
but without a fast charger.,
Models T422DW and T1022DW includes a battery cartridge 9100
and a fast charger DC9700.
Models T422D/DW are for 4mm(5/32") crown staples.
Models T1022D/DW are for 10mm(3/8") crown staples.

                                                                                           52mm(2-1/16")
   Specifications
    DC Magnet Motor (9.6V)
                        44mm (1-3/4")
                Width   4mm (5/32") for Models T422D/DW
    Applicable
    Staple              10mm (3/8") for Models T1022D/DW
                Length 10mm (3/8"), 13mm (1/2"), 16mm (5/8") for both hard and soft materials
                        19mm (3/4"), 22mm (7/8") for soft material only
    Magazine Capacity   100pcs.of staples
    Net Weight          1.7kg (3.7lbs)




   Standard      equipment
   Plastic Carrying case (Model T422DW and T1022DW only)


   Optional      accessories
   Staple 410, 413, 416, 419, 422 (for Model T422D/DW)
   Staple 1010, 1013, 1016, 1019, 1022 (for Model T1022D/DW)


   Features     and benefits
   1. Compact, lightweight and well-balanced tool
   2. Hammer always stops at upper dead point when switch is turned off.
      So you can perform efficient operation because a staple is driven immediatery
      after switch is turned on.
   3. Safety lever to prevent accidental discharge
   4. Convenient sight window to check if there are staples in magazine
   5. Depth guide to adjust driving depth easily
   6. Convenient hand strap
   7. Models T422DW and T1022DW includes plastic carrying case



The standard equipment for the tools shown may differ from country to country.

◦ Jabse Service Manual Search 2022 ◦ Jabse Pravopis ◦ onTap.bg ◦ Other service manual resources online : Fixya ◦ eServiceinfo