Service Manuals, User Guides, Schematic Diagrams or docs for : ONKYO Audio TX-NR414 Manual_TX-NR414_En. gebr aanw
<< Back
|
Home
Most service manuals and schematics are PDF files, so You will need Adobre Acrobat Reader to view : Acrobat Download Some of the files are DjVu format. Readers and resources available here : DjVu Resources
For the compressed files, most common are zip and rar. Please, extract files with Your favorite compression software ( WinZip, WinRAR ... ) before viewing. If a document has multiple parts, You should download all, before extracting.
Good luck. Repair on Your own risk. Make sure You know what You are doing.
Image preview - the first page of the document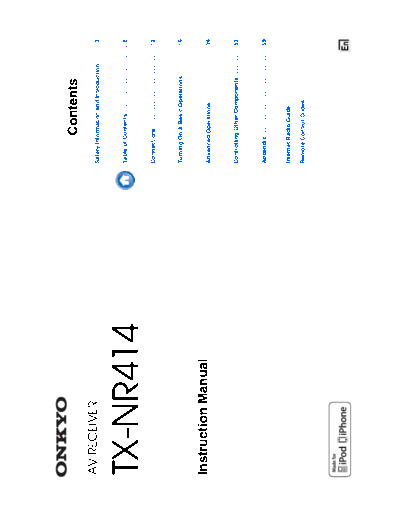 >> Download Manual_TX-NR414_En. gebr aanw documenatation <<
Text preview - extract from the document
                                   Contents
AV RECEIVER          Safety Information and Introduction ............2




TX-NR414             Table of Contents ...........................................6



                     Connections .................................................12



                     Turning On & Basic Operations..................19



Instruction Manual   Advanced Operations ..................................39



                     Controlling Other Components...................53



                     Appendix .......................................................59



                     Internet Radio Guide

                     Remote Control Codes




                                                                                En
                                                                                                                                                              Safety Information and Introduction
                                                                        9. Do not defeat the safety purpose of the polarized or              D. If the apparatus does not operate normally by
                                                                            grounding-type plug. A polarized plug has two blades                  following the operating instructions. Adjust only
     WARNING:                                                               with one wider than the other. A grounding type plug                  those controls that are covered by the operating
     TO REDUCE THE RISK OF FIRE OR ELECTRIC SHOCK,                          has two blades and a third grounding prong. The wide                  instructions as an improper adjustment of other
     DO NOT EXPOSE THIS APPARATUS TO RAIN OR                                blade or the third prong are provided for your safety. If             controls may result in damage and will often
     MOISTURE.
                                                                            the provided plug does not fit into your outlet, consult              require extensive work by a qualified technician to
                                                                            an electrician for replacement of the obsolete outlet.                restore the apparatus to its normal operation,
     CAUTION:
     TO REDUCE THE RISK OF ELECTRIC SHOCK, DO NOT                       10. Protect the power cord from being walked on or                   E. If the apparatus has been dropped or damaged in
     REMOVE COVER (OR BACK). NO USER-SERVICEABLE                            pinched particularly at plugs, convenience receptacles,               any way, and
     PARTS INSIDE. REFER SERVICING TO QUALIFIED                             and the point where they exit from the apparatus.                F. When the apparatus exhibits a distinct change in
     SERVICE PERSONNEL.                                                 11. Only use attachments/accessories specified by the                     performance this indicates a need for service.
                                                                            manufacturer.                                                16. Object and Liquid Entry
                                                                        12. Use only with the cart, stand,       PORTABLE CART WARNING       Never push objects of any kind into the apparatus
              WARNING                         AVIS
             RISK OF ELECTRIC SHOCK   RISQUE DE CHOC ELECTRIQUE             tripod, bracket, or table                                        through openings as they may touch dangerous voltage
                   DO NOT OPEN              NE PAS OUVRIR
                                                                            specified by the manufacturer,                                   points or short-out parts that could result in a fire or
           The lightning flash with arrowhead symbol, within an             or sold with the apparatus.                                      electric shock.
           equilateral triangle, is intended to alert the user to the       When a cart is used, use                                         The apparatus shall not be exposed to dripping or
           presence of uninsulated "dangerous voltage" within
                                                                            caution when moving the                                          splashing and no objects filled with liquids, such as
           the product's enclosure that may be of sufficient
           magnitude to constitute a risk of electric shock to
                                                                            cart/apparatus combination to                                    vases shall be placed on the apparatus.
                                                                                                                S3125A
           persons.                                                         avoid injury from tip-over.                                      Don't put candles or other burning objects on top of
           The exclamation point within an equilateral triangle is      13. Unplug this apparatus during lightning storms or when            this unit.
           intended to alert the user to the presence of important          unused for long periods of time.                             17. Batteries
           operating and maintenance (servicing) instructions in        14. Refer all servicing to qualified service personnel.              Always consider the environmental issues and follow
           the literature accompanying the appliance.                       Servicing is required when the apparatus has been                local regulations when disposing of batteries.
                                                                            damaged in any way, such as power-supply cord or             18. If you install the apparatus in a built-in installation,
                                                                            plug is damaged, liquid has been spilled or objects              such as a bookcase or rack, ensure that there is
                                                                            have fallen into the apparatus, the apparatus has been           adequate ventilation.
Important Safety Instructions                                               exposed to rain or moisture, does not operate normally,          Leave 20 cm (8") of free space at the top and sides and
1. Read these instructions.                                                 or has been dropped.                                             10 cm (4") at the rear. The rear edge of the shelf or
2. Keep these instructions.                                             15. Damage Requiring Service                                         board above the apparatus shall be set 10 cm (4") away
3. Heed all warnings.                                                       Unplug the apparatus from the wall outlet and refer              from the rear panel or wall, creating a flue-like gap for
4. Follow all instructions.                                                 servicing to qualified service personnel under the               warm air to escape.
5. Do not use this apparatus near water.                                    following conditions:
6. Clean only with dry cloth.                                               A. When the power-supply cord or plug is damaged,
7. Do not block any ventilation openings. Install in                        B. If liquid has been spilled, or objects have fallen
   accordance with the manufacturer's instructions.                             into the apparatus,
8. Do not install near any heat sources such as radiators,                  C. If the apparatus has been exposed to rain or water,
   heat registers, stoves, or other apparatus (including
   amplifiers) that produce heat.




                                                                                                   En-2
                                                                                                                                                   Safety Information and Introduction

Precautions                                                    5. Preventing Hearing Loss
                                                                  Caution
                                                                                                                              For U.S. models
                                                                                                                              FCC Information for User
1. Recording Copyright--Unless it's for personal use              Excessive sound pressure from earphones and
                                                                                                                              CAUTION:
   only, recording copyrighted material is illegal without        headphones can cause hearing loss.
                                                               6. Batteries and Heat Exposure                                 The user changes or modifications not expressly approved
   the permission of the copyright holder.
                                                                  Warning                                                     by the party responsible for compliance could void the
2. AC Fuse--The AC fuse inside the unit is not user-
                                                                  Batteries (battery pack or batteries installed) shall not   user's authority to operate the equipment.
   serviceable. If you cannot turn on the unit, contact your
   Onkyo dealer.                                                  be exposed to excessive heat as sunshine, fire or the       NOTE:
3. Care--Occasionally you should dust the unit all over           like.                                                       This equipment has been tested and found to comply with
   with a soft cloth. For stubborn stains, use a soft cloth    7. Never Touch this Unit with Wet Hands--Never                 the limits for a Class B digital device, pursuant to Part 15
   dampened with a weak solution of mild detergent and            handle this unit or its power cord while your hands are     of the FCC Rules. These limits are designed to provide
   water. Dry the unit immediately afterwards with a              wet or damp. If water or any other liquid gets inside       reasonable protection against harmful interference in a
   clean cloth. Don't use abrasive cloths, thinners,              this unit, have it checked by your Onkyo dealer.            residential installation.
   alcohol, or other chemical solvents, because they may       8. Handling Notes                                              This equipment generates, uses and can radiate radio
   damage the finish or remove the panel lettering.               
◦ Jabse Service Manual Search 2023 ◦ Jabse Pravopis ◦ onTap.bg ◦ Other service manual resources online : Fixya ◦ eServiceinfo