Service Manuals, User Guides, Schematic Diagrams or docs for : RCA LCD RCA_BD20TF10_F19426_F19436_F20TF10_TVD809_Audio_block_[SM]
<< Back
|
Home
Most service manuals and schematics are PDF files, so You will need Adobre Acrobat Reader to view : Acrobat Download Some of the files are DjVu format. Readers and resources available here : DjVu Resources
For the compressed files, most common are zip and rar. Please, extract files with Your favorite compression software ( WinZip, WinRAR ... ) before viewing. If a document has multiple parts, You should download all, before extracting.
Good luck. Repair on Your own risk. Make sure You know what You are doing.
Image preview - the first page of the document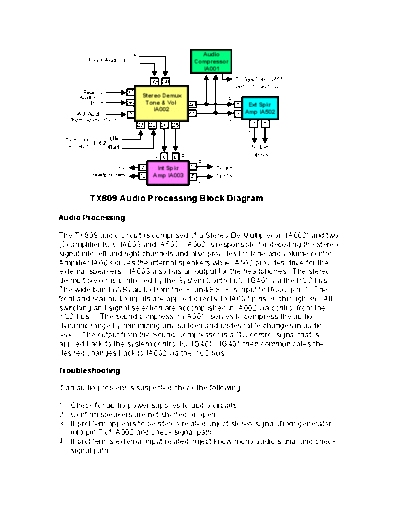 >> Download RCA_BD20TF10_F19426_F19436_F20TF10_TVD809_Audio_block_[SM] documenatation <<
Text preview - extract from the document
                               R                         Audio
          Front Audio In                               Compressor
                               L
                                                         IA001

                                        39 38                         To SysCon IG401
                                                                    (control for auto vol)
       Rear L            37
      Audio                        Stereo Demux
                                                                   R
         In R            36         Tone & Vol        40                5  Ext Spkr
                                       IA002                              Amp IA502
      WB Audio             7                          41                3
   (from Sound/Pix IF)                                              L
                               23 22 26 25                                      7   1
                                                                            R           L
 (from Sys- 2   Clk
           I C2
Con IG401)      Dat                                                         To Ext
                                         L 6    8 R                         Spkrs
                                                           R
                  To               2     Int Spkr 10           To Int
          Headphones               12   Amp IA003 4            Spkrs
                                                           L


          TX809 Audio Processing Block Diagram

Audio Processing

The TX809 audio circuit is comprised of a Stereo De-Multiplexor (IA002) and two
(2) amplifier IC's, IA003 and IA502. IA002 is responsible for decoding the stereo
signal into left and right channels and also provides for tone and volume control.
Amplifier IA003 drives the internal speakers while IA502 provides drive for the
external speakers. IA003 also has an output for the headphones. The stereo
de-multiplexor is controlled by the System Control uC, IG401 via the I2C2 bus.
The wide band (WB) audio from the Sound/Pix IF is input to IA002 pin 7. The
front and rear audio inputs are applied directly to IA002 pins 36 through 39. All
switching and signal selection are accomplished in IA002 via control from the
I2C2 bus. The sound compressor (IA001) serves to compress the audio
dynamic range by minimizing any sudden and undesirable changes in audio
level. The output from the Sound Compressor is a DC control signal that is
applied back to the system control IC, IG401. IG401 then communicates the
desired changes back to IA002 via the I2C2 bus.

Troubleshooting

If an audio problem is suspected check the following:

1. Check for audio power supplies to audio circuits.
2. Confirm speakers are not shorted or open.
3. If problem appears to be stereo related, inject stereo signal (from generator)
   into pin 7 of IA002 and check signal path.
4. If problem is external input related, inject know mono audio signal and check
   signal path.

◦ Jabse Service Manual Search 2022 ◦ Jabse Pravopis ◦ onTap.bg ◦ Other service manual resources online : Fixya ◦ eServiceinfo