Service Manuals, User Guides, Schematic Diagrams or docs for : atari 400_800 CO16555_Atari_Home_Computer_Technical_Reference_Notes_1982
<< Back
|
Home
Most service manuals and schematics are PDF files, so You will need Adobre Acrobat Reader to view : Acrobat Download Some of the files are DjVu format. Readers and resources available here : DjVu Resources
For the compressed files, most common are zip and rar. Please, extract files with Your favorite compression software ( WinZip, WinRAR ... ) before viewing. If a document has multiple parts, You should download all, before extracting.
Good luck. Repair on Your own risk. Make sure You know what You are doing.
Image preview - the first page of the document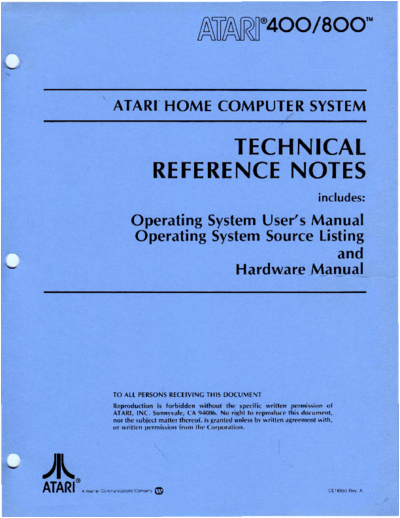 >> Download CO16555_Atari_Home_Computer_Technical_Reference_Notes_1982 documenatation <<
Text preview - extract from the document
                  '.

                       ATARI" HOME COMPUTER SYSTEM                                  /'




                                                 TECHNICAL
                                           REFERENCE NOTES
                                                                                              includes:

                              Operating System User's Manual
                              Operating System Source Listing
                                                         and
                                            Hardware Manual




                       TO All PERSONS RECEIVING THIS DOCUMENT
                       Reprodu ction is forbidd en without the specific written permi ssion of
                       ATARI , IN C. Sunn yvale, CA 94086. N o ri ght to reproduce thi s document,
                       nor the subject matter thereof, is granted unless by written agreement with ,
                       o r w ritt en permi ss io n fro m the Co rpo rati o n .




)I\.
◦ Jabse Service Manual Search 2021 ◦ Jabse Pravopis ◦ onTap.bg ◦ Other service manual resources online : Fixya ◦ eServiceinfo