Service Manuals, User Guides, Schematic Diagrams or docs for : panasonic Audio SA-PT460 firmware STS3201A_Pack
<< Back
|
Home
Most service manuals and schematics are PDF files, so You will need Adobre Acrobat Reader to view : Acrobat Download Some of the files are DjVu format. Readers and resources available here : DjVu Resources
For the compressed files, most common are zip and rar. Please, extract files with Your favorite compression software ( WinZip, WinRAR ... ) before viewing. If a document has multiple parts, You should download all, before extracting.
Good luck. Repair on Your own risk. Make sure You know what You are doing.
Image preview - the first page of the document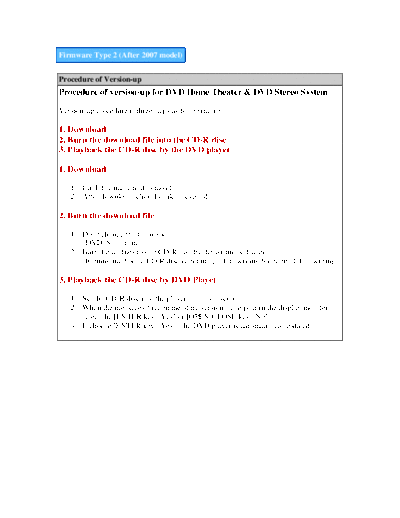 >> Download STS3201A_Pack documenatation <<
Text preview - extract from the document
Firmware Type 2 (After 2007 model)


Procedure of Version-up
Procedure of version-up for DVD Home Theater & DVD Stereo System

Version-up procedure is three steps as following item
==========================================
1. Download
2. Burn the download file into the CD-R disc
3. Playback the CD-R disc by the DVD player
==========================================
1. Download

   1. Click file name to download.
   2. After download, click the file to expand.

2. Burn the download file

   1. Don't change the file name.
      "DVD_S***.rom"
   2. Burn the all files to one CD-R disc by the writing software.
      (Burning method to CD-R disc is not image data writing but normal data writing.)

3. Playback the CD-R disc by DVD Player

   1. Set the CD-R disc into the player and playback it.
   2. When the message of recommending version-up appear in the display monitor
      select the [ENTER key : Yes] or [OPEN/CLOSE key : No].
   3. If choose [ENTER key : Yes] , the DVD player is automatically updated.

◦ Jabse Service Manual Search 2022 ◦ Jabse Pravopis ◦ onTap.bg ◦ Other service manual resources online : Fixya ◦ eServiceinfo