Service Manuals, User Guides, Schematic Diagrams or docs for : panasonic Audio SA-PT570EB PSG0901003CE doc c9btgha3
<< Back
|
Home
Most service manuals and schematics are PDF files, so You will need Adobre Acrobat Reader to view : Acrobat Download Some of the files are DjVu format. Readers and resources available here : DjVu Resources
For the compressed files, most common are zip and rar. Please, extract files with Your favorite compression software ( WinZip, WinRAR ... ) before viewing. If a document has multiple parts, You should download all, before extracting.
Good luck. Repair on Your own risk. Make sure You know what You are doing.
Image preview - the first page of the document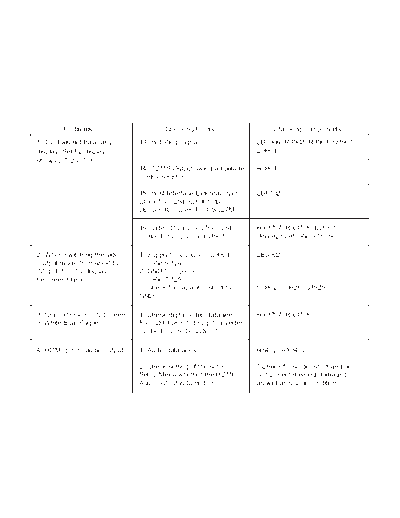 >> Download c9btgha3 documenatation <<
Text preview - extract from the document
        Problems                      Checking Points                  Checking components
1) TV does not have any       13) Hot-Plug Signal                 LB3906, R3902, R3903, Q3901,
display. Set FL display                                           D3901
shows U702/U703
                              14) TDMS Output swing amplitude     R3901
                              control resistor

                              15) Host Interface External Input   LB8702
                              Clock from LSI (IC8001) to
                              Up-Con IC (IC3901) - OSC27M

                              16) Video Data Lines from LSI       RX3707, RX3708, IC3901
                              (IC8001) to Up-Con (IC3901)         (Pin 92 to 95, Pin 87 to 90)

2) When switching the video   1) Supply for Up-Con (IC3901)       LB3902
 output mode from 480P to        - Pin 9,124
720p/1080i, TV display        2) GND for Up-Con
becomes blank                    - Pin 7,125
                              3) Check for capacitor short to     C3902, C3928, C3925
                              GND

3) Color Problem. TV Screen   1) Check digital video data line    RX3707, RX3708
is White/Blue/Purple          from LSI(IC8001) to Up-Converter
                              (IC3901), VOUT0-VOUT7.

4) HDMI got no audio output   1) Audio data lines                 R8402, RX8402

                              2) Check setting of the set in      * Check for solder short and/or
                              Setup Menu whether the HDMI         component missing/damaged
                              Audio output is turned On           as well as signal condition.

◦ Jabse Service Manual Search 2021 ◦ Jabse Pravopis ◦ onTap.bg ◦ Other service manual resources online : Fixya ◦ eServiceinfo