Service Manuals, User Guides, Schematic Diagrams or docs for : panasonic Audio SA-PT570EB PSG0901003CE doc c9opusb
<< Back
|
Home
Most service manuals and schematics are PDF files, so You will need Adobre Acrobat Reader to view : Acrobat Download Some of the files are DjVu format. Readers and resources available here : DjVu Resources
For the compressed files, most common are zip and rar. Please, extract files with Your favorite compression software ( WinZip, WinRAR ... ) before viewing. If a document has multiple parts, You should download all, before extracting.
Good luck. Repair on Your own risk. Make sure You know what You are doing.
Image preview - the first page of the document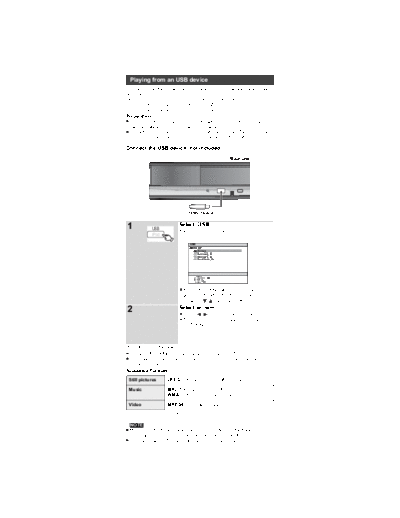 >> Download c9opusb documenatation <<
Text preview - extract from the document
    Playing from an USB device
You can connect and play tracks or files from USB mass storage class
devices.
Devices which are defined as USB mass storage class:
 USB devices that support bulk only transfer.
 USB devices that support USB 2.0 full speed.
Preparation
 Before connecting any USB mass storage device to the unit, ensure
 that the data stored therein has been backed up.
 It is not recommended to use a USB extension cable. The USB device
 connected using the cable will not recognised by this unit.

Connect the USB device (not included).

                                                     Main unit




                                 USB device


1              USB
                            Select U SB .
                            The menu screen appears.
               iPod         e.g.
                                  USB
                                    ROOT
                                      Songs
                                      Concert_01
                                      Concert_02
                                      Southern_AI




                                            OK



                              If PLAYBACK MENU screen appears,
                              select AUDIO/PICTURE or VIDEO by
                              pressing [ , ] and then [OK].

2                           Select an item.
                              Press [ , ] to skip page by page.
                              To return to the previous screen, press
                              [RETURN].



Play starts from the selected content.
  Press [SURROUND] to enjoy the surround sound effect.
  For other operating functions, they are similar to those described in
   Playing Discs .
Supported Formats

    Still pictures    JPEG (Extension: .jpg , .JPG , .jpeg , .JPEG )

    Music             MP3 (Extension: .mp3 , .MP3 )
                      WMA (Extension: .wma , .WMA

    Video             MPEG4 * (Extension: .asf , .ASF )

*   For Panasonic D-Snap/DIGA

    NOTE
    Maximum: 256 folders, 4000 files, 28 characters for file/folder name
    Only one memory card will be selected when connecting a multiport
    USB card reader. Typically the first memory card inserted.

◦ Jabse Service Manual Search 2021 ◦ Jabse Pravopis ◦ onTap.bg ◦ Other service manual resources online : Fixya ◦ eServiceinfo