Service Manuals, User Guides, Schematic Diagrams or docs for : xerox smalltalk Smalltalk_Kernel_Language_Manual_Sep77
<< Back
|
Home
Most service manuals and schematics are PDF files, so You will need Adobre Acrobat Reader to view : Acrobat Download Some of the files are DjVu format. Readers and resources available here : DjVu Resources
For the compressed files, most common are zip and rar. Please, extract files with Your favorite compression software ( WinZip, WinRAR ... ) before viewing. If a document has multiple parts, You should download all, before extracting.
Good luck. Repair on Your own risk. Make sure You know what You are doing.
Image preview - the first page of the document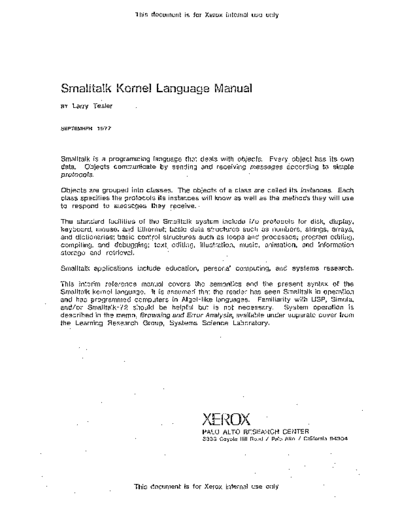 >> Download Smalltalk_Kernel_Language_Manual_Sep77 documenatation <<
Text preview - extract from the document
                      This document is for Xerox internal use only




SmaHtalk Kernel Language fv1anual
BY Larry Tesler


SEPTEMBER   1977




Smalltalk is a programming rang'uage that deals with objects. Every object has its own
data. Objects communicate by sending and receiving messages according to simple.
protocols.

Objects are grouped into classes. The objects of a class are called its instances. Each
class specifies the protocols its instances will know as well as the methods they will use
to respond to messages they receive.
◦ Jabse Service Manual Search 2022 ◦ Jabse Pravopis ◦ onTap.bg ◦ Other service manual resources online : Fixya ◦ eServiceinfo