Service Manuals, User Guides, Schematic Diagrams or docs for : . Car Manuals Subaru Forester 1999-2004 Approved Subaru Forester 2004 2 - Engine Section (H4SO) Mechanical Cylinder Block
<< Back
|
Home
Most service manuals and schematics are PDF files, so You will need Adobre Acrobat Reader to view : Acrobat Download Some of the files are DjVu format. Readers and resources available here : DjVu Resources
For the compressed files, most common are zip and rar. Please, extract files with Your favorite compression software ( WinZip, WinRAR ... ) before viewing. If a document has multiple parts, You should download all, before extracting.
Good luck. Repair on Your own risk. Make sure You know what You are doing.
Image preview - the first page of the document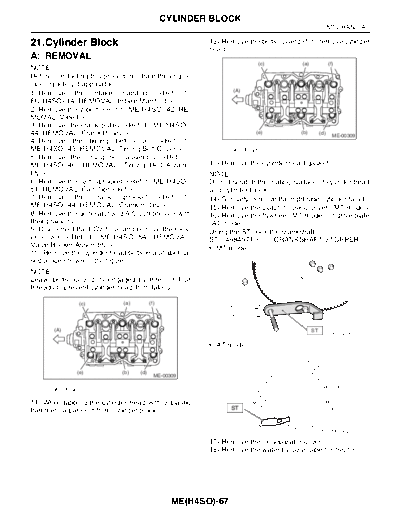 >> Download Cylinder Block documenatation <<
Text preview - extract from the document
                                               CYLINDER BLOCK
                                                                                                      MECHANICAL

21.Cylinder Block                                       12) Remove the bolts (c) and (f) to remove cylinder
                                                        head.
A: REMOVAL
                                                                           (c)       (a)              (f)
NOTE:
Before conducting this procedure, drain the engine
oil completely if applicable.
                                                               (A)
1) Remove the intake manifold. 
2) Remove the V-belt. 
3) Remove the crank pulley.                                             (e)           (b)        (d)
                                                                                                        ME-00309
4) Remove the timing belt cover.                       (A) Front
5) Remove the timing belt assembly.                                                    NOTE:
6) Remove the cam sprocket.                              and cylinder block.
7) Remove the crank sprocket.                     15) Remove the clutch housing cover. (MT model)
8) Remove the generator and A/C compressor with         16) Remove the flywheel (MT model) or drive plate
their brackets.                                         (AT model).
9) Disconnect the PCV hose and remove the rock-         Using the ST, lock the crankshaft.
er cover.                                  
◦ Jabse Service Manual Search 2022 ◦ Jabse Pravopis ◦ onTap.bg ◦ Other service manual resources online : Fixya ◦ eServiceinfo