Service Manuals, User Guides, Schematic Diagrams or docs for : . Car Manuals Subaru Forester 1999-2004 Approved Subaru Forester 2004 2 - Engine Section (H4SO) Mechanical Idle Speed
<< Back
|
Home
Most service manuals and schematics are PDF files, so You will need Adobre Acrobat Reader to view : Acrobat Download Some of the files are DjVu format. Readers and resources available here : DjVu Resources
For the compressed files, most common are zip and rar. Please, extract files with Your favorite compression software ( WinZip, WinRAR ... ) before viewing. If a document has multiple parts, You should download all, before extracting.
Good luck. Repair on Your own risk. Make sure You know what You are doing.
Image preview - the first page of the document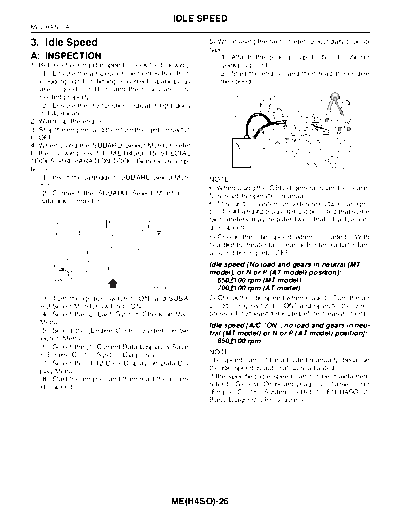 >> Download Idle Speed documenatation <<
Text preview - extract from the document
                                               IDLE SPEED
MECHANICAL

3. Idle Speed                                           5) When using the tachometer (Secondary pick-up
                                                        type).
A: INSPECTION                                              (1) Attach the pick-up clip to No. 1 cylinder
1) Before checking idle speed, check the following:        spark plug cord.
    (1) Ensure the air cleaner element is free from        (2) Start the engine, and then read the engine
    clogging, ignition timing is correct, spark plugs      idle speed.
    are in good condition, and the hoses are con-
    nected properly.
    (2) Ensure the malfunction indicator light does
    not illuminate.
2) Warm-up the engine.
3) Stop the engine, and then turn the igintion switch
to OFF.
4) When using the SUBARU Select Monitor, refer
to the following.                                                                                           ME-00193
    (1) Insert the cartridge to SUBARU Select Mon-      NOTE:
    itor.                                               
◦ Jabse Service Manual Search 2022 ◦ Jabse Pravopis ◦ onTap.bg ◦ Other service manual resources online : Fixya ◦ eServiceinfo